Peninsula Bridge Club
A good day was had by all at the Peninsula Swiss Pairs Congress. The winners were David Weston and Kim Morrison. Peninsula did very well in the Restricted section with Tom Wykoff and Len Evershed in first place and Terry and Jim Rothwell second. The best Peninsula pair were Alan Davies and Vivien Eldridge.
Thanks to Ronnie Ng for a very smoothly run congress. Also thanks to the kitchen helpers and everyone who contributed food for the tables. Everyone really appreciated the food,
Jim's son Matthew worked as a caddy so we were very pleased to have three generations of Rothwells at the club.
For the full results click here.
The evening GNOT qualifier started on the 16th August and continues on the 23rd and 30th August. There will be no side game on these evenings.
The Australia Wide Pairs will be held on Saturday 27th August. The same boards are played by clubs all over Australia and you will be provided with a commentary on the hands.
Preparations for the 50th anniversary celebration day are going well. The event is full and there is a waiting list so if you can't come please let us know.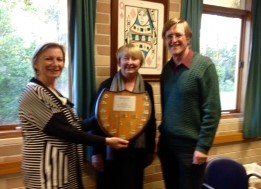 The annual Charles Mitchell Members Only Pairs competition was won by Cath Whiddon and David Farmer. There were 43 pairs competing. The runners up were Jo Jarvis and Trish Giles just ahead of Peter Clarke and Vivien Eldridge.
Thanks to the director Sue Falkingham who managed to run a special movement to give one winning pair.
After voting come and compete in the Charlie Mitchell Members only Pairs starting at 12.30pm. Best percentage wins the glory!
Peninsula Swiss Pairs Congress is on Sunday 31st July. Enter on the NSWBA web-site. If numbers allow there will be a separate restricted section. Please participate and help make this a special day for our club.
12 pairs from Peninsula will be representing the club at the Sydney North Interclub Pairs competition on Sunday July 10th at Trumps. Good luck to them all. Hopefully this year we can repeat our performance in the Interclub Teams and win the trophy!
The NSWBA has changed the format of the State-Wide pairs so that there will only be one session which must be run in the first week of August. PBC will run this event on Monday 1st August. The diary mentions two sessions but the 25th July session is now cancelled.
For information about education go to the Bridge Education section.
The Members only Teams was won by the Fawcett team that consisted of Joan, Joan Rutherford, Eunice Newman & Colin Dempster. They won 4 out of their 5 rounds. The Bertram team came 2nd with the Evershed team 3rd. Well done to all these teams.