Peninsula Bridge Club News
Written by

Cath Whiddon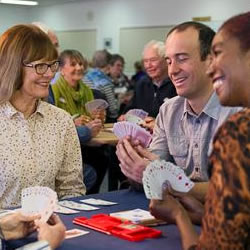 Check below our upcoming bridge education program designed to help round out your bidding system by introducing, refreshing or reviewing your partnership agreements. We also provide details of our ongoing supervised sessions.
November: Jacoby Transfers to the Majors - when partner opens 1NT and you have a 5+ card major. Also night lesson on Stayman.
December: Strong Openings (2 Club & 2NT), Stayman & Transfers.
Tue 21 Nov 2.30-4.30pm
Mon 27 Nov 7-9pm: extra lesson on Stayman
Friday 1 December 9.30 - 11.30: a consolidation of our last 3 teaching topics (strong opening bids, Stayman and Jacoby Transfers to the Majors)
Jacoby Transfers allow the strong hand to become declarer. This convention reinforces the basic principles behind responding to a no-trump opening bid with a 5-card or longer major suit. We will look at:
Signing off in a partscore in a major suit
Inviting game in a major suit
Bidding game in a major suit
Opener's rebid after the transfer
The subsequent auction
It is important that players understand the complete auction following a transfer bid. (We will also introduce the subject of the Alert procedure.) I hope to see you there.
For all lessons:
Come 15 minutes early for cuppa or questions
Cost: $7 Members, $12 Non-members - no PPVs or vouchers accepted
Come without a partner. No registration required.
Supervised sessions
EXTRA Supervised Session
Mondays 9.30 - 11.30am: Monday 6 November - Review of NT & Counting Winners with Cath & Susan.
Every Monday in November and December we will be running an extra supervised practise session with Traveller scoring
Our supervised sessions start with a practice hand on the table to review bidding. So come 15 minutes early if you want to learn as well as play.
Mondays 9.30-11.30am - with Cath or Vickie and Susan Jensen. We review opening bids & responses. We use Travellers on Boards to practise scoring. Come and meet our newest Beginner group... :)
Mondays 7-9pm – with Sue. We use Bridgemates to score & PIANOLA emails to see best hand, most interesting (& even worst - if you want to look?).
Tuesdays 2.30pm – with Vickie or Sue - both using Bridgemates & Pianola!
Fridays 9.30pm – practise play with Terry - also now using Bridgemates & Pianola!
Cost (from September): $7 Members, $12 Non-members. Vouchers and session cards can now be used at all supervised sessions (but not lessons).
Contact Cath if you have any questions: on This email address is being protected from spambots. You need JavaScript enabled to view it..
Written by

Marg Cliffe
David Bird outlines fun, easy to follow tips in bite-size chunks. With 52 tips there is enough to keep bridge players occupied all year - both novices and old hands can develop their game with confidence and see their game improve week by week.
Tips for every occasion - from the age-old adage 'bad players lead from jacks' to the high-risk strategy 'use the dangerous entry first'. No matter how well or how badly the game is going, there is something to aid and inspire everyone in this guide.
Written by

Gayle King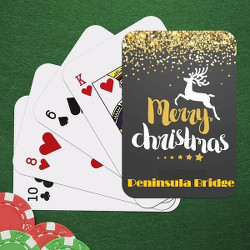 You are invited to join us on Sunday December 10 for the club's annual Christmas celebration – food, friends, fun and bridge. There will be two sections – Novice and Open. The bar will open at 9.30. Bridge play starts at 10.30 and then the famous Avalon Village Meats Spit Roast lunch followed by more bridge until 4pm. There will be Lucky Door and other prizes. Vegetarian and gluten free options will be available for those who request it.
Cost is $30 for members and $45 for non-members. It includes table fees, drinks, nibbles, lunch AND prizes. Bookings are essential and will close a number of days before the event so that we can finalise the catering numbers. Numbers are strictly limited. So get in early and purchase your tickets. Fill out the form at the club and pay either by cash or EFTPOS. If there is no one there to sell you tickets, just pop your name up on the list on the notice board.
Queries please contact This email address is being protected from spambots. You need JavaScript enabled to view it. .
Written by

Nerida Gillies and Peter Clarke
Peninsula players rated highly in the newly published NSW most improved players list with 6 making the top 50.
Congratulations to Peter Clarke, Hans Van Weeren, Heidi Colenbrander, Ray Hurst, Annegrete Kolding and Colin Dempster who have all had an outstanding year of bridge in 2017.
When questioned about the reasons for their improvement here's what they had to say...
Written by

Gayle King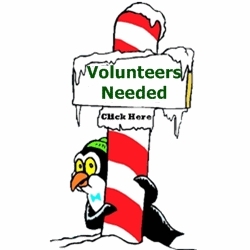 Gayle King would like to hear from anyone who would like to help make this year's Christmas party a fantastic & memorable event. It is being held on Sunday 10th December.
Assistance is required with...
Food and sundries purchase (quantities have already been estimated from last year )... And you can still play bridge!
Publicity ... And you can still play bridge!!
Setting up on the day ... And you can still play bridge!!!
Photographer for the day ... And you can still play bridge!!!!
Kitchen co-ordinator for the day ... And you can still play bridge!!!!!
If you would like to help, please contact Gayle - This email address is being protected from spambots. You need JavaScript enabled to view it. .
Written by

Gayle King
The Race that stopped a Bridge Game!
What a day! We had a great turn out by members.
Sue Riley continued her tradition of being a magnificent Chief Steward and MC.
Congratulations to the section winners, the Lucky Door prize winner and the fashionistas who won the various Best Hat prizes.
Wonderful efforts from our volunteers and also the marvellous salads/morning tea contributions by the players on the day.
Our volunteers and member contributions make days like this possible. Let us know if you can help out on the next event - it's great for the club and you'll enjoy it too. Just email Gayle - This email address is being protected from spambots. You need JavaScript enabled to view it. .
Take a look at the photos from the event - and even share your own.
Written by

David Farmer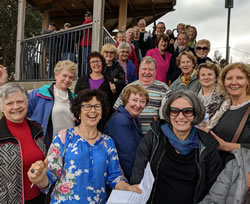 Forty-eight Peninsula players sailed forth (most literally on the ferry across Broken Bay) to visit Brisbane Waters Bridge Club in the first head to head interclub event. This event - the brainchild of their Christine Hadaway and on our side Vivien Eldridge, Anne Small, Catherine Whiddon and Sue Falkingham - was designed in particular to provide a fun teams day for each club's large numbers of novice players. We had four teams with members all under 10MP.
The heavy morning rain did not upset our spirits (fortunately Brisbane Waters Bridge Club picked us up from Ettalong wharf) and we quickly settled into the format. Experienced players helped teams newbies to cope with the different scoring, the number of boards played was reduced for the restricted and novice fields, and finger food was served in the longer breaks between rounds to encourage social interaction.