Peninsula Bridge Club News
Written by

Cath Whiddon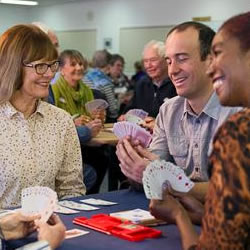 In brief our upcoming bridge lessons are as follows (check the details below):
Our July improvers theme is "Weak two-level openings" - final lesson at 7pm on on Monday night 31 July.
Our August Improvers lessons will look at the "Big Picture of Competitive Bidding" - pulling together our last three months of lessons on overcalls, take-out doubles and pre-emptive openings with lessons at 2.30pm on Tuesday 15 August, 9.30am on Friday 25 August and 7pm on Monday 28 August - different hands at each session.
Come 15 minutes before a supervised session to play a practice hand on the table to review bidding.
Beginners Lessons start Monday mornings

9.30-11.30am from 11 September for 7 weeks.
Written by

David Farmer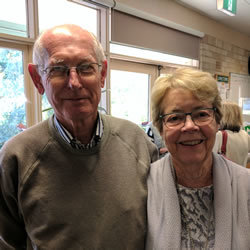 Terry and Lois Rothwell won the Swiss Pairs on Tuesday 18 July, holding off challenges from several other pairs.
The guest expert on this Challenge night was Richard Douglas who spoke on the topic of gaining and keeping a good partner. It was noticeable that there was far less bickering between partners for the rest of the night - may it last!
Written by

Sarah Young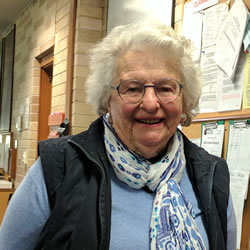 It is always a pleasure to celebrate our members' special days.
On Thursday 20 July, we will have an afternoon tea to celebrate Joyce Low's 90th birthday.
On Saturday 22 July, we will be celebrating Gino Morello's birthday and also congratulating him on the marvellous achievement of being a member for 50 years, 1967-2017, and a wonderful member across all those years.
Contributions to the afternoon teas would be appreciated.
Hope to see you there on both occasions!
Written by

Sarah Young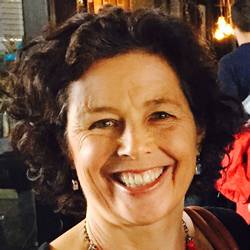 July has been a month of celebration! We have been able to celebrate some wonderful member milestones, with Gino celebrating 50 years of membership and Joyce Low turning 90. Congratulations to other members who are having significant birthdays- please let Mary Farrell know ahead of time so we can organise an afternoon tea, as we all love our cake!
We have also had some success in the competitive arena, with our narrow win at the Sydney North Interclub Pairs Event held at Trumps. It was a very friendly event which always makes the day a success, regardless of the outcome.
Written by

David Farmer
How would you bid this hand (non-vulnerable against vulnerable) from the Swiss Pairs on Tuesday 18 July, after partner's 2S opening showing less than opening points and 5+ spades and 5+ of a minor suit?
Alternately, and possibly quite a different problem, how do you bid if partner managed a 1D opening?
Written by

David Farmer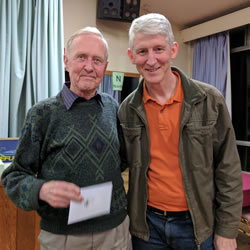 Michael Draper did well today as one of the runners-up in North Shore Bridge Club's Swiss Pairs event. He played with Alex Kemeny.
You can check the full results for the North Shore Swiss Pairs Congress.
Written by

David Farmer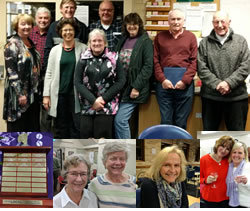 In an exciting finish, after Trumps had been announced as the winners after a tie checkback with Peninsula, a check of the category scores found an error which had given Trumps a half point too much. The corrected final result has Peninsula on 16 beating Trumps on 15.5 and North Shore Bridge Club on 14.5.
Unfortunately this correction was after nearly all the players had congratulated the Trumps players and departed - so over the next week we will need to create a collective photo of the winning team. And it was a team effort with seven of the twelve Peninsula pairs contributing points to the win.
Written by

David Farmer
In response to a member request we have started a service where members can ask bridge questions via an email to This email address is being protected from spambots. You need JavaScript enabled to view it.. The questions and answers will be published on the Peninsula website, either under Bridge Education if the question and answer is more suitable for a beginner or novice player or under Members if they are more suited to open players of all levels.
Please give the service a go! You might not always agree with the answers but you may still learn something valuable.
And if you have reasonable bridge experience/knowledge, an open mind, a willingness to say when you don't know an answer, and empathy for and a desire to help other bridge players trying to improve their game - we would like to invite you to nominate for the panel that responds to such questions. If you are interested, then let me know at This email address is being protected from spambots. You need JavaScript enabled to view it..