Peninsula Bridge Club News
Written by

Derrick Browne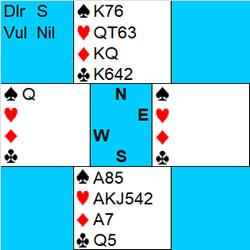 Plan your play as South playing 6H after an uncontested auction and a SQ opening lead:
Those who attended Derrick Browne's pre-session talk before the Swiss Pairs on Tuesday 24 April may have an advantage.
Written by

David Farmer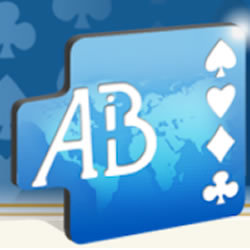 This Week in Bridge looks at overcalls in short articles suitable for club and congress level players.Try these for some good ideas, reinforcement or just a point of reflection:
Written by

David Farmer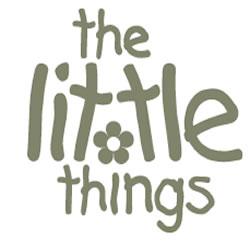 Little things can make a huge difference to our enjoyment of the game and to the amount of work required to make the club hum. We highlight some of these little things below. Thank others when you see them done - and send your suggested "little things" to This email address is being protected from spambots. You need JavaScript enabled to view it..
Putting your cup in the dishwasher or washing it up - and offering to do this for someone unable to do so
Leaving the table ready for the next session
Putting the section and table number on the table money slip
Being attentive when the director makes announcements
Written by

Cath Whiddon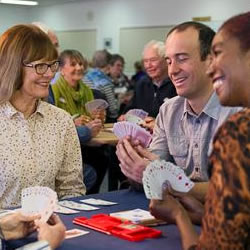 2018 planned programs
Defence course - Monday mornings for 4 weeks from 7 May 9.30-11.30
Advanced Signals Workshop - Saturday 26 May 9.30-11.30.
Lessons in April: Bridge Ed Topic is No Trumps & Responses (including Stayman)
Friday morning 27/4 9.30-11.30am
Written by

Vivien Eldridge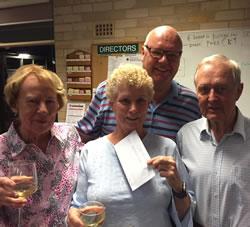 Thirty three teams, including twelve from Peninsula, played in the 2018 Swiss Teams Congress held on Sunday 22 April.
Thanks to Heidi Colenbrander and others we have an engaging photo record of the day (including all the winners) for all to enjoy. You can also check the full congress results.
The congress went well in spite of an unexpected triangle. The director, Ronnie Ng, did a fantastic job. The 33 teams included 6 'restricted' teams. Gayle King and her helpers provided wonderful food all day which was much appreciated.
Written by

Gayle King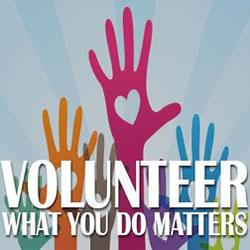 Our club has a strong history of social events and our volunteers make them possible. Let us know if you can help out at any of our next events – it's great for the club and you get more than you give. Volunteering is particularly valuable for new members as a way of getting to know your fellow Peninsula bridge players. We have a list of current volunteers but if I don't know about you then please drop me an email on This email address is being protected from spambots. You need JavaScript enabled to view it..
As the club grows each year our need for grocery items and catering increases. If you can suggest where the club could procure grocery items wholesale or indeed a caterer who is reasonably priced and would suit some of our lunch events please also let me know at This email address is being protected from spambots. You need JavaScript enabled to view it..
Written by

David Farmer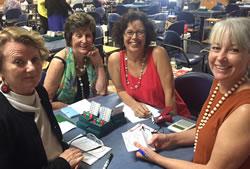 Fourteen teams came together on Thursday morning 12 April to battle it out among friends in the Members Teams Day. It is one of the friendly competitive events of the club's year. Check out the photos from the event.
The winning team after the five rounds comprised Ray Bragge, Anne Small, Margaret and Michael Draper. The best remaining novice team comprised Gayle King, Maggie Gibbs, Sarah Young and Jen Ardill.
Thanks to the many players who contributed to the morning tea, to Sue Riley for arranging the fourteenth team (including two rookies Susan Eason and Simon Hunter) and to John Rogers for dealing the boards
Written by

David Farmer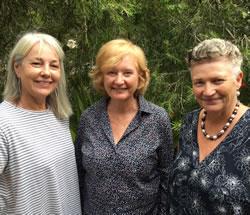 The photo by Heidi Colenbrander captures the latest three members to become ABF Accredited Teachers.
Jennifer Ardill, Susan Oxfeldt Jensen and Kelly Barber have all reached the accreditation requirements with the teachers' 2/1 workshop held recently at Peninsula and been awarded their certificates.
This makes eight in total of our members to be so awarded, with five of them currently involved in our Bridge Education program.