Peninsula Bridge Club News
Written by

David Farmer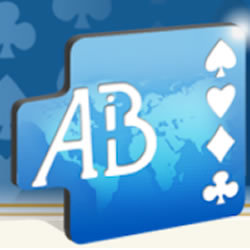 This Week in Bridge in January looks at some core concepts for any improving player.
These are part of an excellent free archive of short articles categorised by level - try the link to find articles suitable to you and your partners.
Written by

Susan Eason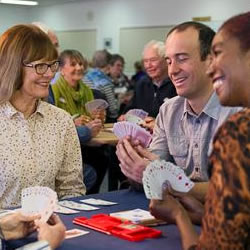 Lessons for 2019
January Topic - Openings
Wednesday January 30th - 9.30am - 11.30am
Welcome Back review & consolidate openings including opener jump rebid to 2NT and opening 2NT
Monday February 4th - 9.30am - 11.30am
Advanced Lesson: Rules of 15 and 20
Cost $10 Members $15 Non members No partner required No registration required
Questions: email Cath - This email address is being protected from spambots. You need JavaScript enabled to view it.
Beginners Course
Beginners Course will commence Monday 4th March 7-9pm through Monday 15th April Beginners_Course_March_2019.docx
Register your This email address is being protected from spambots. You need JavaScript enabled to view it. to This email address is being protected from spambots. You need JavaScript enabled to view it. or by phone to Susan on 0418 177 444.
Written by

Anonymous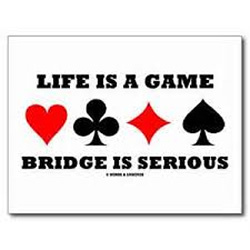 Once in a while you will go down
But it's all in the game.
Partner will give you a frown
And do exactly the same.
You both raise a big smile
When you win by a mile
And realise it's all in the game.
Anonymous - but adapted from the original lyrics by Carl Rigman
Written by

Jennifer Ardill
This book extends the concept to more complex situations, and covers ideas such as safety plays, avoidance plays, trump control, dummy reversal, and end plays. This is a book aimed to the Intermediate Player wanting to "get to the next level" - it should help players who have a good grasp of the basics of declarer play and are looking to improve from there.


Written by

Jennifer Ardill
Defense is the hardest aspect of bridge, in part the defenders have the less information to work with. That is why it is so important to communicate, and why a solid understanding of basic signalling methods is critical.In this book the author has added a discussion of some signalling methods and practical examples abound - every chapter includes hands from the world's finest players. This book is aimed at the Intermediate and above player and offers the reader plenty to think about.
Written by

David Farmer
Peninsula hosted one of the locations where the NSWBA Under 100MP Championsip was played (on Fri 30 Nov). 18 pairs, including some from Central Coast and North Shore Bridge Clubs, competed at our club in this event scored across the state.
After some technical issues at the state-wide scoring portal, the scoring is largely complete - you can check the currently recorded state scores.
Congratulations to our most successful pair, Maggie Gibbs and Paddy Purves, who were placed 29th across the state. The placings by the four sub-categories are not yet tabulated.
Written by

David Farmer
Members, delegation holders and other volunteers may be interested in the insurance cover the Club holds.
TBIB (Tony Bembrose Insurance Brokers) provides a full brokering service to the Australian Bridge Federation, State Associations, affiliated Clubs and members. Currently the ABF has arranged three main forms of insurance through TBIB and NSWBA affiliated bridge clubs such as Peninsula are automatically covered under these policies. See the ABF website http://www.abf.com.au/about-abf/insurances/ for full details.
A quick summary of these polices follows (taken from NSWBA Insight Issue 4):
Written by

David Farmer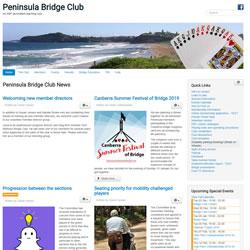 It might be time to refresh our website. How could we make it better?
If you have views on this - and please do - then This email address is being protected from spambots. You need JavaScript enabled to view it. at This email address is being protected from spambots. You need JavaScript enabled to view it. so we can get together.
You might like to be involved going forward - contributing ideas and stories for the website and its twin sister the monthly newsletter. We have roles where you can contribute - whether as a writer or someone comfortable with computers or image editing.
David Farmer