Peninsula Bridge Club News
Written by

Susan Jensen
This is the system sweeping the world. It's easier than Standard and helps you to make the most of two strong game forcing hands. You'll also find slam bidding easier using Two Over One.
Presented by Australia's premier bridge teacher, Joan Butts, this workshop is multi-level and suitable for players of all abilities.
Saturday April 14th 9:30-11:30 am.
$15 for members, $20 for visitors, morning tea provided.
Register online at joanbuttsbridge.com/events or contact Susan Jensen -This email address is being protected from spambots. You need JavaScript enabled to view it. or 0405 061 252.
For the event flier click here.
Written by

David Farmer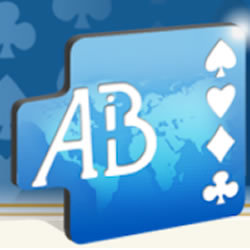 This Week in Bridge is looking at modern bidding tools for responder and/or advancer to continue the bidding after partner has bid in short articles suitable for club and congress level players.Try these for some good ideas:
"New Minor Forcing fundamentals" - useful 5 page coverage of one of responder's important tools on the second round of the bidding (along with 4th Suit Forcing) for finding out more about opener's hand - a different version of the "2C/3C checkback" often played at our club.
"Preempt Keycard" - useful 3 page coverage of an advanced responder tool for exploring slam after partner opens the bidding with a 2-level or 3-level preempt.
"Meckstroth Advances" - 3 page coverage of an advanced approach for advancer to use to show a range of hands after partner has made a Michael's Cue-bid over the opponent's 1 major opening.
Written by

David Farmer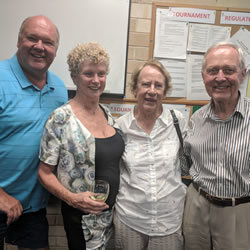 The 2018 GNOT day qualifier finished today with the Small team (Margaret and Michael Draper, Anne Small and Hans van Weeren) triumphant at the close.
The event comprised a seven match round robin followed by a two match knock-out with the adjacently placed team (results here listed in two lines). The Small team was well behind the Ho team (Alexander Cook, Alan Davies, Vivien Eldridge and Robin Ho) at the end of the round robin stage but managed to win the knockout. The top two teams are eligible for free entry in the GNOT Metropolitan Final.
Written by

Cath Whiddon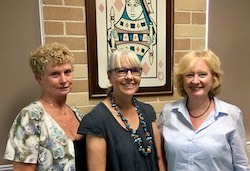 Meet our "Go-to Girls" from the Peninsula Bridge Ed Team - Anne Small, Jen Ardill and Susan Jensen.
Anne is available for questions about hands after a Wednesday DAY or Friday DAY session (if she is there playing or directing).
Jen is back helping in our supervised sessions.
Susan can help buddy up any of our supervised session players who want to try a regular duplicate with an experienced member to introduce them & guide them through the transition.
Written by

David Farmer
Join your friends in our members only teams day on Thursday 12 April. This one-day event comprises only five matches running from 10am to about 4pm. Come early with a savoury or sweet food offering and share morning tea before play starts.
Last year this Members' Teams was won by the Small team (Anne Small, Vivien Eldridge, Michael Draper and Margaret Draper) ahead of the Bailey team (Ian Bailey, Lynn Baker, John Rogers and Margaret Rogers). In 2018 the second prize will go to the best remaining team with a less than 100MP team average.
This is a fun and friendly teams event, with a competitive edge as is normal with bridge. Come and enjoy the day. Check all the event details, including how to enter on the Club Noticeboard. You can use the entry list to enter as a pair if you are looking for team mates.
Written by

David Farmer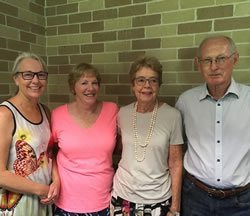 Trumps won the 2018 Margaret Smale Sydney North Interclub Teams Challenge played on Sunday 11 March at Peninsula Bridge Club, on 16 points just ahead of North Shore Bridge Club on 14. Peninsula came third on 7, ahead of Manly Leagues on 5 and the All-Stars on 3.
Check the overall club results, the detailed round by round results, and the event photo album to view and add photos to the 2018 event photo library or browse to http://bit.ly/2018InterclubTeams.
Peninsula won Category C when Jennifer Ardill, Suzanne Cole, and Lois and Terry Rothwell pipped the leading North Shore team with 86.86VP ahead of 86.39.
Written by

Cath Whiddon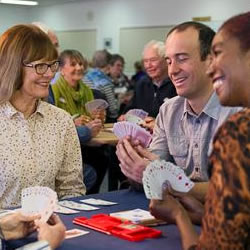 Lessons in MARCH: Minor Openings and Responses
Friday 9 March 9.30-11.30am
Monday 26 March 7-9pm
SATURDAY 24 March 9.30-11.30am: WORKSHOP - ENTRIES
For all lessons:
Come 15 minutes early for cuppa or questions
Cost: $10 Members, $15 Non-members - no PPVs or vouchers accepted
Come without a partner. No registration required.