Peninsula Bridge Club News
Written by

Marg Cliffe
The Impact of Opening Leads Against Notrump Contracts – How to Take More Tricks on Defense by Audrey Grant.
This book looks at defending against no trump contracts. It focuses on the opening lead and how it can affect the subsequent defence.
It covers opening leads such as 4th highest from longest and strongest . . .; when to lead partner's suit; what to lead from a sequence; when it's time to take the tricks and run and lots more.
Written by

David Farmer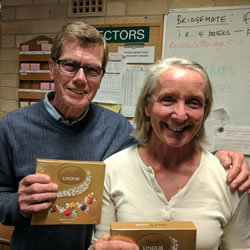 Ray Hirst and Marieta Borthwick triumphed in the Swiss Pairs event on Tuesday 19 September.
They were 5 IMPs ahead of second placed Terry and Lois Rothwell who in turn edged out Michael and Margaret Draper. It appears mixed pairs do well at Swiss Pairs.
Our expert speaker on the night was Will Jenner-O'Shea who also played with his partner Vanessa Brown. Will spoke on bidding style and how to assess your own and your partner on the Adventurous to Cautious scale.
Written by

David Farmer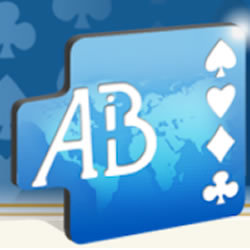 This Week in Bridge is looking at Defense in short articles suitable for club and congress level players.Try these for some good ideas:
Written by

Nerida Gillies
Forty-eight intrepid bridge players of all skill levels braved the cold and blustery weather to pitch their wits against each other in the Peninsula Members-only Teams day under direction from John McIlrath.
The five session event was both won by team the Small team (Anne Small, Vivien Eldridge, Michael Draper and Margaret Draper) with the Bailey team (Ian Bailey, Lynn Baker, John Rogers and Margaret Rogers) placed second. Check out the full results.
Anne was very welcoming to Patrick - her kibitzer from France. After hearing both Anne and John McIlrath's attempts to impress Patrick with their french skills, I can safely say he was much more impressed with Anne's bridge skills and John's directing skills!
Written by

David Farmer
This article guides event conveners (and other organizers) with the various communications options available to them.
As event convener you are assumed to have accepted overall responsibility for an event, from its design and budget, its promotion and marketing, through to its implementation and post-event wrap. The communications team aims to ensure you have access to efficient and effective communication channels to help you communicate your message. This may include channels you have not considered - check our full communication channel list.
You can use most of these communication channels directly, with support available as required. We will happily provide one-on-one training to you so that they can confidently use them. You will see that a small number of channels are however more effectively handled by the channel expert - simply provide the listed channel expert with your ready to use "copy" and, if relevant, photos.
Written by

David Farmer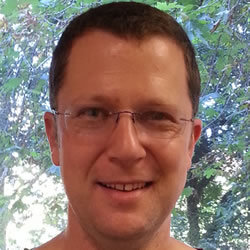 Ed Barnes gave a great pre-session expert talk on Tuesday 12 September on raising in competition, starting with the power of cue raises and the freedom this gave for direct raises to be pre-emptive.
If you missed this Tuesday night expert talk you can check out his Raising in Competition notes.
Written by

Terry Herfort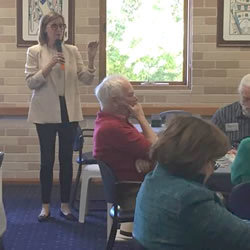 If you missed Joan's workshop on Modern Competitive Bidding on Saturday 9 September, then you missed out. It was excellent and there was so much chatter afterwards with people saying how much they had enjoyed it and how much they had learnt.
Her morning workshop on "Modern Competitive Bidding" was well attended even though it clashed with compulsory voting for council elections. Those members present certainly got value for their $12 as well as justification for giving up a valuable Saturday morning. I spoke to several attendees and they were unanimous in saying it was very worthwhile.
Joan is a gifted teacher in bridge – no wonder she is the ABF Teaching Coordinator – as she can communicate to all levels of players. Her logical explanations, her empathy with the attendees, her anecdotes and quotes, reinforces the principles she is teaching.
Written by

Cath Whiddon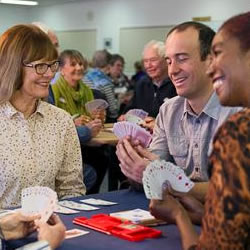 Check the details below of our bridge education program designed to help round out your bidding system by introducing, refreshing or reviewing your partnership agreements for opening strong hands (September) and using the Stayman Convention (October). We also provide details of our ongoing supervised sessions.