Peninsula Bridge Club News
Written by

David Farmer
On Tuesday 24 October Anne Brown and Bill Fitzsimons won the 4th session of The Lawrence competition, just ahead of Trish Giles and Verl Lawrence.
There is just one more session of The Lawrence in 2017, to be held on Tuesday night on 28 November, with another $200 cash prize to be won.
Maybe Verl will win this one?
Written by

Marg Cliffe
David Bird outlines fun, easy to follow tips in bite-size chunks. With 52 tips there is enough to keep bridge players occupied all year - both novices and old hands can develop their game with confidence and see their game improve week by week.
Tips for every occasion - from the age-old adage 'bad players lead from jacks' to the high-risk strategy 'use the dangerous entry first'. No matter how well or how badly the game is going, there is something to aid and inspire everyone in this guide.
Written by

Flapper Snapper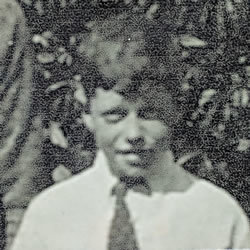 How well do you know your fellow members? Just which active member of the club is this little boy in this 1935 photo?
First correct answer via the quiz form below gets a free game voucher.
Written by

Gayle King
We have sold all our seats faster than Santa can deliver presents. For those of you who have missed out and are disappointed, we have put up a waiting list on the notice board.
Those who have previously put their names on the list on the notice board but have not yet paid, your seat for the event has been set aside but please pay as soon as possible to guarantee it. If you are currently away from the club then you might like to email This email address is being protected from spambots. You need JavaScript enabled to view it. your return date to the club to pay for the tickets so that we know that you still want to come (thanks to those who have already done this).
Queries please contact This email address is being protected from spambots. You need JavaScript enabled to view it. .
Written by

Flapper Snapper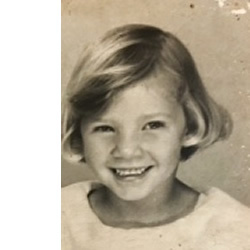 Which of our active members is featured in this photo from the past? Obviously hints are needed for this one. Hint 1: She is instrumental in helping you choose the times you play. Hint 2: She was born overseas.
The first correct guess via the form below wins a free session voucher.
Written by

David Farmer
This is not a happy tale. It started off innocently enough with North opening 1D, my passing as East, and South bidding 1H. Then my partner West opened 1S and I got excited and things went downhill...
North bid 2D, and I counted my losers coming to 8. I was not sure whether to bid 3S or 4S on my massive fit and diamond void, so I temporized and bid 3S, telling myself that when I later bid 4S it might stop the opponents from doubling or continuing to bid.
After 3S, South bid 4H which was passed around to me, and sure enough I bid my 4S - not taking into account South's confidence in bidding game without any sign of a fit from partner.
So was South intimidated enough to pass and leave 4S undoubled?
Written by

Terry Rothwell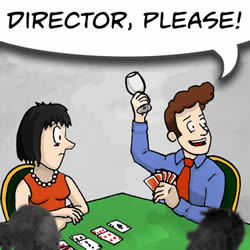 Here is the latest (and some earlier) Director rosters: .
Written by

Nerida Gillies and Peter Clarke
Peninsula players rated highly in the newly published NSW most improved players list with 6 making the top 50.
Congratulations to Peter Clarke, Hans Van Weeren, Heidi Colenbrander, Ray Hurst, Annegrete Kolding and Colin Dempster who have all had an outstanding year of bridge in 2017.
When questioned about the reasons for their improvement here's what they had to say...