Peninsula Bridge Club News
Written by

Alan Davies
Congratulations to Anne Small and Michael Draper on their convincing win in the State Mixed Pairs. Runners up were David Farmer and Cath Whiddon with Beverley Schultz and Jim Fairley in third place.
Written by

Vivien Eldridge

Anne Small, Ron Smith and Margaret and Michael Draper won the GNOT qualifier which finished on Saturday. David Farmer, Cath Whiddon, Alan Davies and Vivien Eldridge were second. The novice team of Len Evershed, Ray Hurst, Heidi Colenbrander and Marieta Borthwick diod very well all the way through and ended up third.
Thanks very much to all who participated. Thanks also to Ronnie Ng who directed the teams and the side game each week.
Written by

Alan Davies
Peninsula Bridge club was well represented at the Gold Coast Congress this year with over 35 members participating. There were some very good results and a lot of fun was had throughout the week.
The Van Weeren team with Hans, Peter Clarke, Norman Greche and Colin Dempster did fantastically well to come 2nd in the Novice Teams Championship. Hans and Peter also did well to come 4th in the Novice Pairs. Suzanne Cole and Jennifer Ardill came 11th in this event. Robin Ho and her partner Alex Cook won the Ivy Dahler Butler Swiss Pairs. Congratulations to them. Vivien Eldridge & Alan Davies did very well in the Intermediate Pairs to come 6th; they also came 11th in the Intermediate division of the Ivy Dahler Intermediate Butler Swiss Pairs and 11th in the Intermediate Teams Championship with Maurice and Rachael Loomes. Maurice & Rachael came 11th in the Restricted division of the Ivy Dahler Butler Swiss Pairs.
Ron Smith and Anne Small did very well in the Open Teams event with an outside pair. They came 32nd in a very strong field.
Written by

Alan Davies
The Club Pairs Champions for 2016 are Rachael and Maurice Loomes (with assistance from Lyn Smith). Well done to them! The runners up were Lynn Baker and Peter Robinson, closely followed by Jutta Gradwell and Colin Dempster. It was a great turn out this year with 22 pairs vying for  the top position.


Written by

Alan Davies
What a fantastic and fun filled day we had at Peninsula Bridge Club yesterday. Thirty two teams represented their clubs in 4 divisions, Open, Intermediate, Restricted and Novice. The final results were Trumps winning the Open and Intermediate division, Manly Warringah Leagues Restricted and Peninsula the Novice division. Peninsula was the overall winner of the trophy. Margaret Smale's daughter Wynne Murray joined us to congratulate all the winners. Click on this link to see the full results. http://www.bridgeaustralia.org/resultslistbyheadevent.asp?umbid=93 Here are some photos of the day and winners.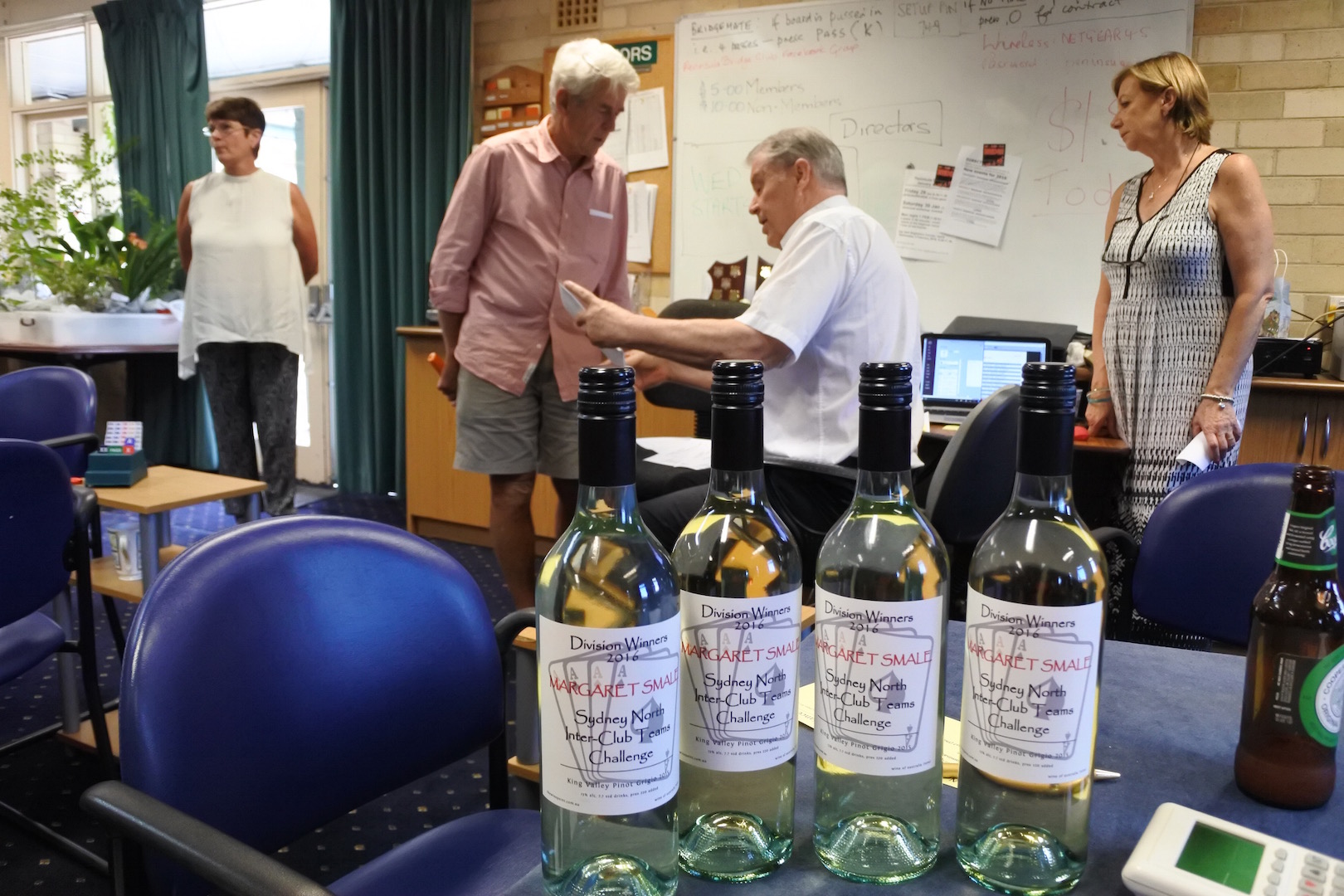 Wynne Murray with our President Maurice Loomes, Director John McIlrath & Sue Falkingham
Written by

Vivien Eldridge
There is a lot happening in March so get organised ....
The daytime GNOT qualifier runs for three Saturdays in March. Find a team and enter on the list at the club. This gold point event will be directed by Ronnie Ng.
Find yourself a partner for the Sloman cup which runs for 10 months on the first Thursday of each month.
The State Open Pairs Qualifier is run over three Thursdays in March.
The Rosemary's Row comp (under 150mp) runs for 9 months on the second Monday of each month. So organise a regular partner for this event.
The Under 50 mp comp runs for 9 months on the first Friday of each month. The player with best average % gets the prize. This is an individual event.
The Under 15 mp comp runs for 9 months on the first Wednesday of each month. The player with best average % gets the prize. This is an individual event.
Good luck to all those selected to play in the Margaret Smale Inter-Club Teams competition on Valentine's day. Peninsula is hosting this event. Hopefully this time we can win and get the trophy!
And good luck to all those heading for the Gold Coast especially those who are going for the first time.
Written by

Alan Davies
On Thursday 28 we had a very successful Invitation Teams day. We had 18 teams and 8 of these teams brought along a guest pair to the club. It was a fun filled day and very well run by Ronnie our director. The results are up under results in the multi section. The best team to win with a guest pair was the Rothwell team. The overall winners were the Peters team that consisted of Bev, Jo Jarvis, Maureen Cooksley and Beryl Dawson
Written by

Vivien Eldridge
Wednesday evening bridge is now starting at 7pm rather than 7.30. This session is new player friendly and will usually finish by 10pm. Wednesday evening is perfect for new players just out of supervised, experienced players wanting to experiment with new partners and/or new conventions or anyone who just wants a relaxed game of duplicate. Because it's a walk in session everyone is guaranteed a game. Look forward to seeing you there at the NEW TIME of 7.00pm.
Also the Wednesday Evening supervised sessions have been cancelled until further notice.