Peninsula Bridge Club News
Written by

Terry Herfort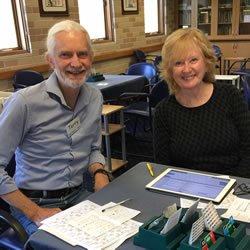 On Wednesday, I experienced my first buddy session with my new buddy, Susan Jensen. I was fortunate in that Susan propagated the program.
The aim of the buddy program is to assist novice players who want to improve their bidding, playing and confidence by playing with a more experienced player over four normal bridge sessions. A novice player is defined for this program as having less than five masterpoints, and the experienced player has 30+ masterpoints.
At the end of each playing session (at a time mutual to both) the pair discuss the preceding session of play. This involves looking at specific boards and improving the bidding, seeing how to better play the cards as declarer and defender. Also, errors of bidding and play, and an assessment of weaknesses in the novice's game overall.
Written by

Marg Cliffe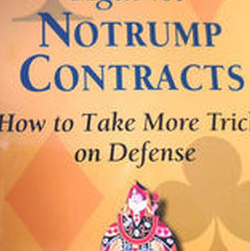 The Impact of Opening Leads Against Notrump Contracts – How to Take More Tricks on Defense by Audrey Grant.
This book looks at defending against no trump contracts. It focuses on the opening lead and how it can affect the subsequent defence.
It covers opening leads such as 4th highest from longest and strongest . . .; when to lead partner's suit; what to lead from a sequence; when it's time to take the tricks and run and lots more.
Written by

Terry Herfort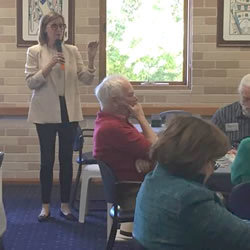 If you missed Joan's workshop on Modern Competitive Bidding on Saturday 9 September, then you missed out. It was excellent and there was so much chatter afterwards with people saying how much they had enjoyed it and how much they had learnt.
Her morning workshop on "Modern Competitive Bidding" was well attended even though it clashed with compulsory voting for council elections. Those members present certainly got value for their $12 as well as justification for giving up a valuable Saturday morning. I spoke to several attendees and they were unanimous in saying it was very worthwhile.
Joan is a gifted teacher in bridge – no wonder she is the ABF Teaching Coordinator – as she can communicate to all levels of players. Her logical explanations, her empathy with the attendees, her anecdotes and quotes, reinforces the principles she is teaching. You can see a you-tube video version of her presentation.
Written by

David Farmer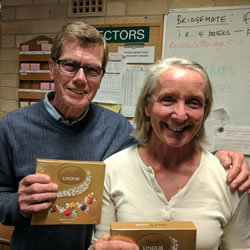 Ray Hirst and Marieta Borthwick triumphed in the Swiss Pairs event on Tuesday 19 September.
They were 5 IMPs ahead of second placed Terry and Lois Rothwell who in turn edged out Michael and Margaret Draper. It appears mixed pairs do well at Swiss Pairs.
Our expert speaker on the night was Will Jenner-O'Shea who also played with his partner Vanessa Brown. Will spoke on bidding style and how to assess your own and your partner on the Adventurous to Cautious scale.
Written by

Susan Jensen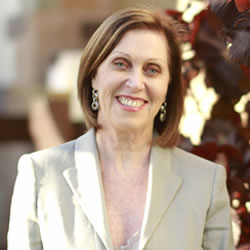 Put a note in your diary for next Saturday, 9th September at 9.30 until 11.30. Joan Butts will be with us at Peninsula holding a workshop on: Modern competitive bidding.
The general trend in today's game is to be more aggressive, especially in competitive auctions. Put pressure on the opponents by getting in their way. Everyone plays a role: opener, responder, intervener and the advancer. This workshop will show you when to bid a lot and when not to. Check the event details and flier.
We look forward to seeing you there.
Written by

Lois Rothwell
Anita and Jo, along with Terry and I, had fun on a bridge holiday in Thailand. We played among our group of 24 but also played in local bridge clubs. The venues were wildly diverse, from a grand and opulent Country Club to a hot and dingy room above a bar, making our own club at Peninsula seem wonderful.
The players were equally diverse, mainly expatriates and mainly men. Our own accommodations were splendid, the pick being this lovely villa on a cliff overlooking the sea at Phuket.
Anita and Jo are pictured with Greg Eustace and Gaye Allen who hosted the holiday, as well as Jenny from a Newcastle club. Back to earth now!
Written by

David Farmer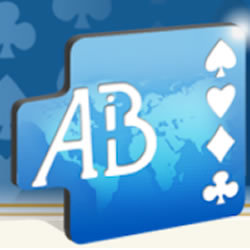 This Week in Bridge (TWiB) from Adventures in Bridge this week focuses on Using powerful length in dummy. "Here we finish up our month of declarer play in suit contracts with a further discussion of how to use length in the dummy - this time when our suit/fit is not long enough to set up in the dummy without extra measures. We will be looking at suits that are powerful and can be used for a discard."
This provides a useful treatment/reminder for all improver levels - captured in just three pages.
Written by

David Farmer
If you have a a little bit of time and a little bit of interest in helping with communication then we'd love to welcome you to the communications team to help you help the club! Email me at This email address is being protected from spambots. You need JavaScript enabled to view it. if any of these roles sound like you?
Story writers - both your own ideas and ones that are commissioned
Photographers - taking suitable photos for stories
Bridge question gurus - Answering how-to bridge questions that are emailed in
Peninsula stationery organiser - refresh our stationery with the new club logo and font - guidance/support given
Website support - update and maintain the website, helping others add their content - training/support given