Peninsula Bridge Club News
Written by

David Farmer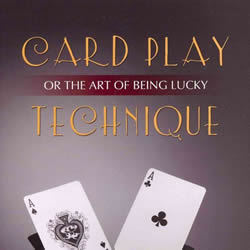 Your partner East opens with 3S but North doubles and South bids 4H passed out. Partner leads the SA, then SK and finally SQ. Dummy ruffs this third trick with the HJ. What is your plan seeing these cards:
NORTH
S J7
H AQJ
D KJ4
C A8752
EAST WEST (YOU)
S AKQ? S 96
H ? H KT3
D ? D T9862
C ? C T94
SOUTH
S 82?
H ?
D ?
C ?
Written by

Marg Cliffe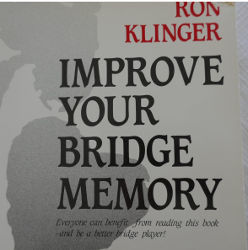 Everyone can become a better bridge player by improving their memory! Ron Klinger shows how in this book: Improve your bridge memory. Dividing the book into three sections - beginners, intermediate and advanced, he discusses how to remember vital principles of play, which cards are high and how to cause memory problems for your opponents. Learn how memory can improve with age. Klinger discusses how the right mental attitude can make a big difference.
Bidding is also included. We all have either transgressed or experienced when a member of a partnership forgets the system, passes a transfer or leaves the partner to play in a cue-bid. Ron Klinger shows a number of simple ways to avoid these memory lapses. Borrow it now and re-borrow it in 12 months. It will still have something for everyone to take away. The book that keeps on giving!
Written by

Vickie Busteed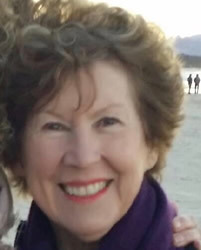 Vona lost her life this October after an almost 18 month battle with cancer. Till the end one of her passions was bridge. She and Alan joined Peninsula Bridge Club in 2000 and Vona last played on 3 August this year.
Her funeral was low key, family focused and attended by a large contingent of her bridge family.
Vona loved to represent the club in congresses and interclub events. She was a very good player with 830+ masterpoints and relished the challenge of playing difficult to make contracts. She was also an enthusiastic doubler always saying to the opposition: "I think I'll give you a kiss".
Over the years as well as representing the club Vona was a dealer, and was involved in aspects of catering and mentoring younger players.
Farewell Vona you will be missed.
Written by

Shirley Corbett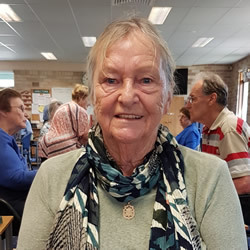 This month we are spotlighting Chris Kelly. She has been playing bridge for over thirty years. She started playing at Mona Vale Bowling Club - to name a few of her teachers: Bev Menzies, John Verholtz and John Newman.
I asked Chris whether she had always lived in Australia. "Yes, I have always lived in Australia. I was a born in Mareeba and then lived in Brisbane, where I was married, and then moved to Sydney. I have five children, and have had a great eventful life." Chris adds that she has lived on the northern beaches for 57 years.
Written by

David Farmer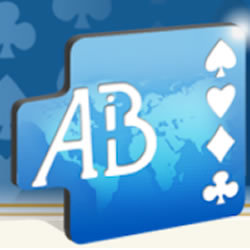 This Week in Bridge is looking at Defense in short articles suitable for club and congress level players.Try these for some good ideas:
Written by

David Farmer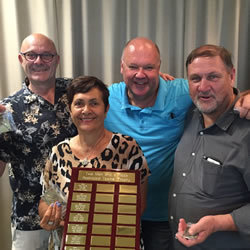 Great news! Peter Clarke and Hans van Weeren were successful winning the two-day Two Men and a Truck Restricted Teams at the 2017 Sydney Spring Nationals event. And Marieta Borthwick, Heidi Colenbrander, Ray Hirst and Annegrete Kolding won the Novice Teams, playing in the same field. Check the full results.
Peter and Hans' team won convincingly with a VP tally of 88.61, 14VPs ahead of the closely contested minor places. They earned more than 10MP, suggesting their time in the Restricted category may not continue forever... The only team to beat them was the Borthwick-Colenbrander-Hirst-Kolding team!
Written by

David Farmer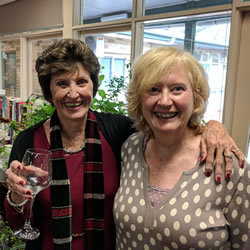 Maggie Gibbs and Susan Jensen won the three week Under 100MP Championship Pairs after an excellent third week result. They ended one point head of runners-up Sue Evershed and John Simmonds. The competition proceeded without issue with eighteen pairs and another set of players are now comfortable with arrow-switching (used to fairly calculate results over the combined north-south and east-west fields). Check the results (including cumulative results) on our website.
There was also an additional two prizes for the best remaining pairs with each player below 50MP and below 15MP. Provisionally these are Alan Jones and Peter Wilson for the under 50MP (and coming third overall) and Donette Taylor and Patsy Wilson for the under 15MP prize.
Written by

Terry Herfort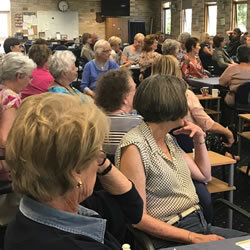 "Joan Butts, in her inimitable style of enthusiasm, engagement and bridge wisdom, delivered an excellent two hour workshop on "Doubles" at Peninsula Bridge Club on Tuesday afternoon, 17 October 2017 to an audience of 67.
Once Joan gauged the standard of her audience - which were mainly novices and intermediate players - she pitched her presentation solely to takeout doubles.
In my observation of playing bridge over the last eighteen months, the takeout double is underutilized. Joan confirmed this and explained that a takeout double is a very valuable bid to have in your armory, especially when your pesky opposition open the bidding and you have an opening hand with shortage in their suit.