Peninsula Bridge Club News
Written by

Marg Cliffe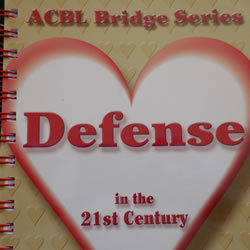 Developed by the American Contract Bridge League (ACBL) the content was originally written in 1986 by Audrey Grant and recently updated to more accurately convey the latest duplicate bridge ideas and philosophy.
After defending a deal do you and your partner wonder "Could we have defeated the contract?" In this book you will learn how to defeat contracts that the declarer would make if you don't defend carefully.
Guidelines are given for handling specific situations on defence: opening leads, third-hand play, second-hand play and signals and lots more. This book has lots of examples and easy to follow explanations.
Written by

Coordinated by Shirley Corbett
I have been playing bridge for 27 years. I learnt in 1989 with John Roberts in Mona Vale. Although I had played a lot of card games - Canasta, Euchre, 500, etc. - I knew nothing about Bridge. I am forever grateful I had such a good teacher.
My husband and I came to Australia as "£10 Poms", arriving on 10 June 1960. It was a beautiful, sunny day. I literally fell in love with Australia then, and remain so. We were 'nominated' by my aunt who dwelt in Park St, Mona Vale, and we have lived in Northern Beaches ever since, that is for 57 years.
I was born in London. My earliest memory is of walking beside my mother, who was pushing a pram with my sister in it, when the siren started. She whisked me up into the pram, and ran for her life. Within days, we left London for Wales, where I grew up.
Written by

Coordinated by Shirley Corbett
I was brought up in Adelaide and moved to Sydney as a young mother 43 years ago.
I live in Bayview and when I retired 6 years ago I joined Peninsula Club the following year. I love to play bridge, but with other commitments I can usually only play one day a week on Tuesdays. My friend and bridge partner Sandy Black and I, through education and playing are slowly gathering points, becoming more confident and gaining new strategies along the way. We still get very jittery when asking for aces and usually are very happy just to be in game, but we certainly aim to get beyond this stage.
Written by

Terry Herfort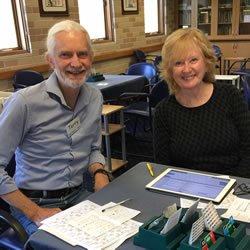 On Wednesday, I experienced my first buddy session with my new buddy, Susan Jensen. I was fortunate in that Susan propagated the program.
The aim of the buddy program is to assist novice players who want to improve their bidding, playing and confidence by playing with a more experienced player over four normal bridge sessions. A novice player is defined for this program as having less than five masterpoints, and the experienced player has 30+ masterpoints.
At the end of each playing session (at a time mutual to both) the pair discuss the preceding session of play. This involves looking at specific boards and improving the bidding, seeing how to better play the cards as declarer and defender. Also, errors of bidding and play, and an assessment of weaknesses in the novice's game overall.
Written by

Marg Cliffe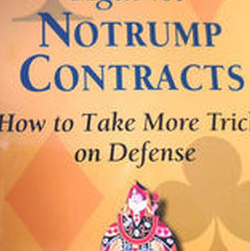 The Impact of Opening Leads Against Notrump Contracts – How to Take More Tricks on Defense by Audrey Grant.
This book looks at defending against no trump contracts. It focuses on the opening lead and how it can affect the subsequent defence.
It covers opening leads such as 4th highest from longest and strongest . . .; when to lead partner's suit; what to lead from a sequence; when it's time to take the tricks and run and lots more.
Written by

Terry Herfort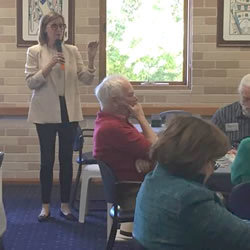 If you missed Joan's workshop on Modern Competitive Bidding on Saturday 9 September, then you missed out. It was excellent and there was so much chatter afterwards with people saying how much they had enjoyed it and how much they had learnt.
Her morning workshop on "Modern Competitive Bidding" was well attended even though it clashed with compulsory voting for council elections. Those members present certainly got value for their $12 as well as justification for giving up a valuable Saturday morning. I spoke to several attendees and they were unanimous in saying it was very worthwhile.
Joan is a gifted teacher in bridge – no wonder she is the ABF Teaching Coordinator – as she can communicate to all levels of players. Her logical explanations, her empathy with the attendees, her anecdotes and quotes, reinforces the principles she is teaching. You can see a you-tube video version of her presentation.
Written by

David Farmer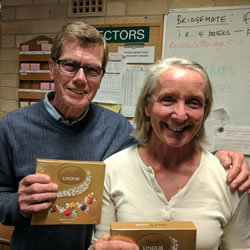 Ray Hirst and Marieta Borthwick triumphed in the Swiss Pairs event on Tuesday 19 September.
They were 5 IMPs ahead of second placed Terry and Lois Rothwell who in turn edged out Michael and Margaret Draper. It appears mixed pairs do well at Swiss Pairs.
Our expert speaker on the night was Will Jenner-O'Shea who also played with his partner Vanessa Brown. Will spoke on bidding style and how to assess your own and your partner on the Adventurous to Cautious scale.
Written by

David Farmer
This article guides event conveners (and other organizers) with the various communications options available to them.
As event convener you are assumed to have accepted overall responsibility for an event, from its design and budget, its promotion and marketing, through to its implementation and post-event wrap. The communications team aims to ensure you have access to efficient and effective communication channels to help you communicate your message. This may include channels you have not considered - check our full communication channel list.
You can use most of these communication channels directly, with support available as required. We will happily provide one-on-one training to you so that they can confidently use them. You will see that a small number of channels are however more effectively handled by the channel expert - simply provide the listed channel expert with your ready to use "copy" and, if relevant, photos.