Peninsula Bridge Club News
Written by

Cath Whiddon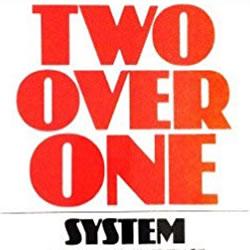 If you are considering adding 2/1 to your partnership agreement and want to practice the concepts taught at our recent Joan Butts' workshop, then great news!: Follow-up 2/1 Practice Hands are available at the club.
Bridge Ed is offering our "Book-a-Table" service to members. It is available on a Monday, Wednesday or Friday nights and/or Saturdays. Anne Small will be coordinating the service.
The practice times will run alongside our current night club sessions but at the opposite end of room. So anytime between:
Mon nights 6.45-9pm
Wed nights 6.45-10pm
Fri nights 6.45-10pm
Sat 9.30-4pm excluding 1st Saturday of month (Bridge for Brains in May and Lawrence in June) and Saturday 26 May (Advanced Defence Workshop)
Written by

Cath Whiddon
Want to improve your defense? Then come along to the Killer Defense Course on Mondays in May 9:30-11:30am and Saturday 26th May.
Come to a few sessions or come to all.
With topics of Opening Signals & Leads (NT) on May 7, Opening Signals & Leads (Suit Contracts) on May 14, Attitude Signals on May 21, 3rd Hand Play & Second Hand Play on May 28 plus on Saturday May 26th More on Signals.
Written by

David Farmer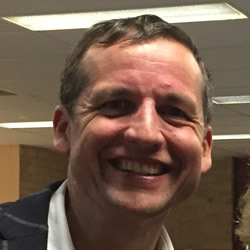 How do you feel when your opponents steal your game contract? Want to be a better stealer yourself?
Come on Tue 24 Apr and learn from accomplished teacher Derrick Browne about the art and science of sacrificing when the opponents have a game on. And equally importantly learn how to respond when opponents try to steal your games.
Check the details and how to register in the calendar event.
Written by

David Farmer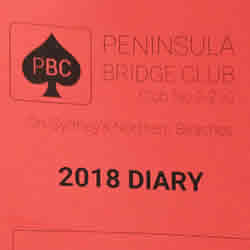 This article lists the currently known errors in the printed 2018 Diary. Check the up-to-date calendar which also includes new items.
Who to contact:
The Membership line should now read Greg Hay 0421 659 761
The phone number for Website - Nerida Gillies should be 0403 958 685
Written by

Alan Davies
Looking for a teams event with championship tier red masterpoints at your local club? The three week State Open Teams qualifying event starting on Thursday 10 May is your answer.
Check out the details of the event.
Last year the event was won by Alan Davies, Vivien Eldridge, David Farmer and Cath Whiddon. This year it could be you.
Written by

Marg Cliffe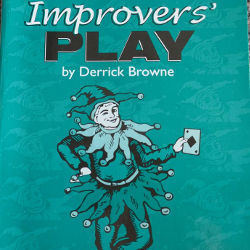 Improvers' Play by Derrick Browne is aimed at the developing bridge player. It features the play of the cards - both as declarer and as defender. There are also bidding tips given for each concept. The auctions shown are based on the standard five-card major system used by Peninsula's Bridge Education.
Each chapter gives a short description followed by examples to illustrate the steps. At the end there is a Review of key points followed by a Quiz on each topic. Of course the Answers to the Quiz are provided on the following page. Then you are given a number of hands to try out. The auction, bidding, lead and suggested play are provided for you to check as you go or afterwards. A copy is available in our library.
Written by

Susan Jensen
This is the system sweeping the world. It's easier than Standard and helps you to make the most of two strong game forcing hands. You'll also find slam bidding easier using Two Over One.
Presented by Australia's premier bridge teacher, Joan Butts, this workshop is multi-level and suitable for players of all abilities.
Saturday April 14th 9:30-11:30 am.
Follow-up Teachers workshop 10-2.30 Sunday - register online at joanbuttsbridge.com/events
$15 for members, $20 for visitors.
Register online at joanbuttsbridge.com/events or contact Susan Jensen -This email address is being protected from spambots. You need JavaScript enabled to view it. or 0405 061 252.
For the event flier click here.
Written by

David Farmer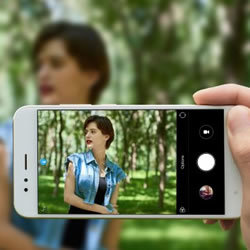 Are you adept with taking photos on your phone? Perhaps you could join our club photographer group.
This group of volunteers takes photos of happenings at the club both spontaneously as a roving photographer or by request from an event convener. They are the key step in showing you photos on the website and in the newsletter, and on our club TV slideshow.
If you feel able to join this group, keep reading and let me (David Farmer, 0415 715 743) know.