Peninsula Bridge Club News
Written by

David Farmer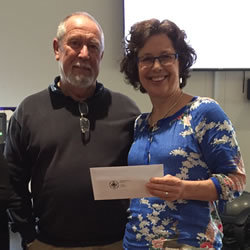 Peninsula attended the North Shore Bridge Club's Two Men and a Truck Restricted and Novice Congress on the weekend of 24-25 June in force. And returned in triumph with:
Sarah Young and Len Evershed (seeded 20th) winning the Swiss Pairs Restricted Category,
Hans van Weeren, Peter Clarke, Heidi Colenbrander and Ray Hurst winning the Swiss Teams Restricted Category, and
Christine Egan, Di Agostino, Sue Evershed and John Simmonds as runners-up in the Swiss Teams Novice Category.
Written by

Marg Cliffe
Have you have surfaced from learning the basics of bridge? Do you go to the monthly bridge classes and some things are starting to make more sense? Are you playing a couple of times a week and you and your partner are keen to learn more?
You will enjoy dipping into Intermediate Bridge Play Problems by Tina Zines (edited by Derrick Browne). Copies are available now, for you to borrow, in your PBC Library.
Select a problem, bid and play. Then turn the page to see the solution and analysis for each of the 50 problems. South is always the declarer in these problems. Often you will be asked to put yourself in the declarer's seat. Some of the time you will be defending.
Written by

Vickie Busteed
The Club held an information meeting on 3 June for members interested in the proposed financial and operational changes. The meeting was well-attended and provided members with the opportunity to ask any questions.
The Secretary, Vickie Busteed, has provided these minutes of the information meeting for those who were unable to attend.
Written by

Wendy Starkie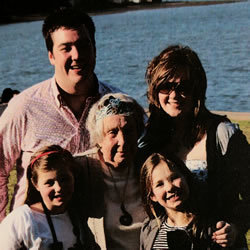 I was sad to her of the passing of Rowan Sault. She died on 16 May after a four month battle with cancer. Rowan's partner Beth Bretnall attended the funeral.
Rowan was so brave, continuing to attend Peninsula Bridge Club several time a week for as long as she could. She was always interested in all that happened in people's lives and was a great supporter of my sporting and theatrical activities .
She was a highly respected and loved member of the club for over ten years and will be missed particularly by those in the "Relaxed Row"!
Written by

Alan Davies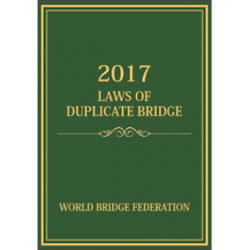 On 1 August, revisions to the Laws of Duplicate Bridge will take effect in Australia - and at the Peninsula Bridge Club.
Watch this space, in the next edition, for a summary of how these changes will affect you, the players.
Currently your directors are receiving training and guidance in these revisions to ensure a smooth transition.
Written by

David Farmer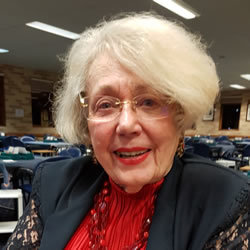 Come and play in the inaugural session of The Lawrence this Tuesday 27 June.
The Lawrence was created earlier this year when Verl Lawrence retired as Chief Director to celebrate the huge contribution of Verl and John Lawrence have made to the club. It will be played on five nights, the fourth Tuesday of each month until November (excluding August).
A key feature, hoping to attract competitive players, is a cash prize to the winning pair of each session. Verl has indicated she will be trying to win the first prize - come and enjoy the night.
Written by

David Farmer
Our Tuesday Challenge Night Swiss Pairs on 22 June were won by Peter Clarke and Jim Rothwell with a decisive win in the final round.
They finished well ahead of runners-up Sarah Young and Hans van Weeren with Col Dempster and Brian Ody coming third on the night.
Our guest expert was successful player Steven Bock who has been a member of the NSW Seniors team six times. He stressed knowing your system well and avoiding mistakes as the key elements of success at competitive level. Unfortunately my playing with him for the first time did not demonstrate the lesson. Knowing the system takes more than a few minutes discussion - and avoiding mistakes for me is still a major ambition!
Written by

Shirley Corbett
I have been playing bridge for sixteen years, when I moved to Australia from England, I know I needed to find some "new" friends, and the best way to do that is to pursue hobbies. I had always enjoyed card playing in England, my father is a bridge player, so I thought it was time to learn.
I looked up Peninsula Bridge Club in the phone directory, and first spoke to Ada Duigan, who at the time I think was organising beginner classes. I signed up for beginner classes which started on Monday mornings and were run by Greg Quittner. My first partner was a lady called Doreen. I have lived on Collaroy Plateau for sixteen years.