Peninsula Bridge Club News
Written by

Sarah Young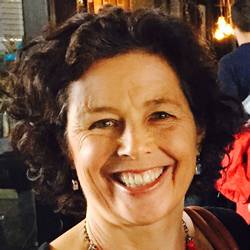 The Committee would like to thank Verl Lawrence, who has done such a marvellous job for 17 years as our Chief Director. Along with her husband John, Verl has contributed to the Club in an amazing way. She has guided our directors in training, directed numerous events over the years, as well as being so friendly and welcoming to members, new and old. On Saturday 29 April, we will be thanking her with an afternoon tea. I hope you can either come to the session to play or drop in at 2pm for a glass of champagne!
Written by

Sarah Young
The Committee wishes to inform all members of some compulsory tax changes which will take effect from 1 September 2017.Peninsula Bridge Club is a non-profit association, but is still subject to taxation rules. We are fortunate to have Bob Whiddon as Treasurer, who is a qualified accountant, and who has been ensuring that the Club meets all its financial responsibilities.
This year our annual turnover reached an annual rate of $150K and as a result, we are required by law to register as a GST entity. This means we must pay GST on our annual subs and table money, but that we also qualify to get a GST refund on GST included in goods and services we pay for. In order to register for GST we are required to first have an Australian Business Number (ABN) and tax file number (TFN). This has now been done and we have registered for GST but have not yet received details on this from the tax office (ATO).
Written by

David Farmer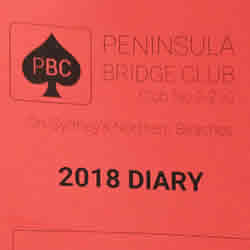 This article lists the currently known changes (including a couple of errata) from the printed 2018 Diary.
Who to contact:
The Membership line should now read Greg Hay 0421 659 761
The phone number for Website - Nerida Gillies should be 0403 958 685
Written by

David Farmer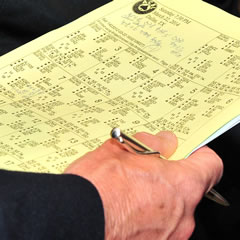 Following our trial in 2017 of a number of initiatives to help our competitively-focused players, primarily involving the Tuesday night session, the Committee has authorized a range of more diverse Playing Better Initiatives for 2018 that are not restricted to Tuesday night.
The target group is our congress players and other regular established club players who self-nominate their interest.
The proposed initiatives include:
Written by

David Farmer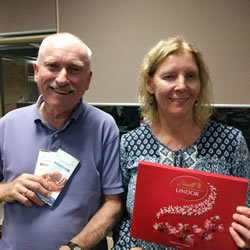 Vivien Eldridge and Alan Davies triumphed in the 2017 Sloman Competition, ahead of Beryl Dawson and Yvonne Perkins.
This annual competition is held on Mondays across the whole year.
No-one took a photo on the day so this photo is repurposed from one taken a couple of weeks earlier when they won the November Swiss Pairs.
Written by

David Farmer
In a tight final round Cath Whiddon and David Farmer overtook leaders Col Dempster and Brian Ody to win the 2017 Padman Trophy. This was despite David putting Cath into an impossible slam - "Slam seemed to be possible, and there was no way I could think of to ask the questions I wanted to - and I am an optimist...".
Col Dempster and Brian Ody were the 2017 Padman Trophy runners-up.
No-one took a photo on the night and so this is a repurposed photo from earlier in the year.
Written by

Gayle King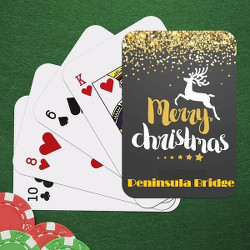 We ate, drank, played bridge and were merry! Check (and add your own) photos from the event.
What a day! It was a sell out as sadly we couldn't comfortably fit any more than 40 bridge tables in the main club room. Congratulations to the Lucky Door Prize, the section winners and the team who won the Christmas Trivia Quiz – how did they do it? We also had a wonderful array of Festive Fashionistas. Brilliant efforts from our volunteers and fabulous food contributions by the players on the day.
Our club has a strong history of social events and our volunteers and contributions from members make days like this possible. Let us know if you can help out at the next event – it's great for the club and you get more than you
give. Hope to see you all next year.
Queries please contact This email address is being protected from spambots. You need JavaScript enabled to view it. .
Written by

Cath Whiddon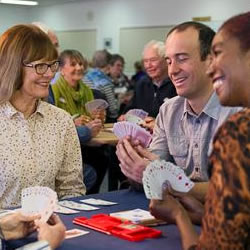 Check below for our upcoming bridge education program for 2018, designed to help round out your bidding system by introducing, refreshing or reviewing your partnership agreements. We also provide details of our supervised sessions.
January Lessons: a review of our basic bidding system & practising Declarer's PLAN - counting winners (NT) & losers (suit contracts)
Friday 19 January 9.30-11.30am
Monday 22 January 7-9pm
Tuesday 30 January 2.30 - 4.30pm