Comp Central
This segment of the website houses articles for and by players who are focused on developing their competitive bridge bidding and play.
These articles and challenges may include:
Challenge hands
Discussion of strategies to improve bridge bidding and play
Articles on non-standard conventions
Wraps of major congresses
Other resources
Written by

David Farmer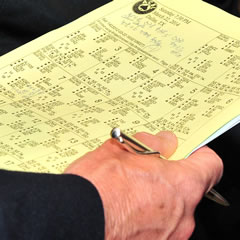 Following our trial in 2017 of a number of initiatives to help our competitively-focused players, primarily involving the Tuesday night session, the Committee has authorized a range of more diverse Playing Better Initiatives for 2018 that are not restricted to Tuesday night.
The target group is our congress players and other regular established club players who self-nominate their interest.
The proposed initiatives include:
Written by

David Farmer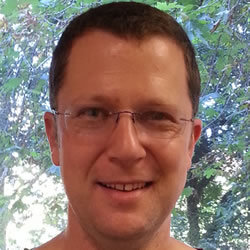 Ed Barnes gave his last expert pre-session talk for 2017 on 28 November. It was an intermediate/advanced level talk delivered in Ed's brilliant style taking us on a journey and introducing us to some advanced signalling techniques in the context of when they are critically useful.
If you missed out on the talk or want to revisit it at your leisure, have a look at Ed's notes on Missing Signals.
We hope to see more of Ed in 2018. Keep your eyes and ears open.
Written by

David Farmer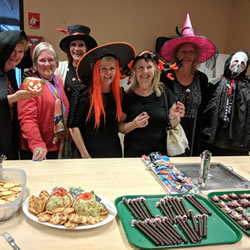 At our Tuesday Challenge night on Halloween night, Ed Barnes ran through a number of situations where the generally useful guideline of second hand playing low might be better not followed.
See if you follow his logic in his notes from the talk.
Halloween was present in force with many dressing up for the occasion and all of us spoilt with Halloween sweets made by Cassandra Mitchell.
Written by

David Farmer
This is not a happy tale. It started off innocently enough with North opening 1D, my passing as East, and South bidding 1H. Then my partner West opened 1S and I got excited and things went downhill...
North bid 2D, and I counted my losers coming to 8. I was not sure whether to bid 3S or 4S on my massive fit and diamond void, so I temporized and bid 3S, telling myself that when I later bid 4S it might stop the opponents from doubling or continuing to bid.
After 3S, South bid 4H which was passed around to me, and sure enough I bid my 4S - not taking into account South's confidence in bidding game without any sign of a fit from partner.
So was South intimidated enough to pass and leave 4S undoubled?
Written by

David Farmer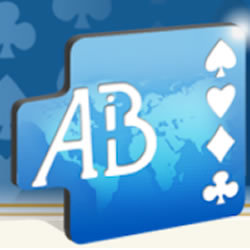 This Week in Bridge is looking at Defense in short articles suitable for club and congress level players.Try these for some good ideas:
Written by

David Farmer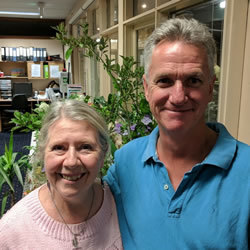 Joan Butts, our guest expert presenter for our Swiss Pairs night on Tuesday 17 October, spoke on the recent changes in the ways experts are evaluating their hands for preemptive opening bids. She started with a hand from the 2017 European Championships where a player, non-vulnerable in first position, opened 3S with S KJ6432 H 86 D 2 C QT76. While not necessarily supporting this as a good preempt, Joan noted that many more weaker hands were now used as preemptive openings, all trying to get in the way of their opponents finding a good contract.
Sure enough the 30 odd participants put this into good effect on the night. Joan was impressed when Anne Brown opened 3D on S5 H JT87 D KJT643 C K4 on the second board of the night and prevented her and her partner (yours truly) from bidding a makeable game - maybe I piked... You can download Joan's notes here to join the new world of light preempters.
Written by

David Farmer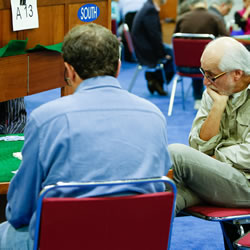 We are reviewing the 2017 Tuesday night initiatives and considering possible 2018 initiatives for members who wish to improve their competitive play.
If either you attended Tuesday night over the past six months or you are interested in collaborative initiatives to help you improve your competitive play, then this is for you.
Please spend five minutes to complete the simple three page survey below. (A paper version is available should you prefer it - contact David Farmer on 0415 715 743 or This email address is being protected from spambots. You need JavaScript enabled to view it..)
Written by

David Farmer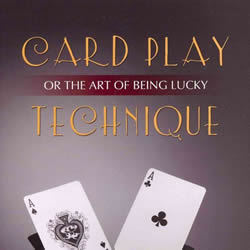 See if you can work this one out:
S 54
H K73
D A86
C AQ863

S A82
H A842
D K73
C 752
You, South are in 3NT, with East having bid spades, West dutifully leading one. How do you plan the play?
Subcategories
For articles promoting competitive bridge
For bridge challenge hands
You are here:  

Comp Central