Written by

Shirley Corbett
Our lovely Isabel Buckland has sent me a short, but interesting story this month: "I first started to play bridge about 14 years ago, on a Tuesday night with Anne Small, helping beginners understand the game!
I was born in England, but because of my husband's work, we lived many years in Dallas, Texas. I have two sons, one who lives in the U.S. and one in Narrabeen.
When my husband retired we decided to relocate to Australia, to be near my son here. My husband died 5 years ago, so bridge has been very helpful for me to settle well and also I have made many friends at the Bridge club."
Isabel has never been idle. Although she may not have held an official position withmthe Bridge Club, she quietly did a voluntary role in the Kitchen, when required.
Written by

Shirley Corbett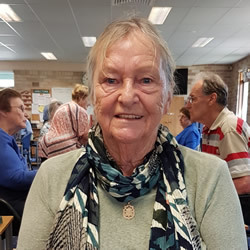 This month we are spotlighting Chris Kelly. She has been playing bridge for over thirty years. She started playing at Mona Vale Bowling Club - to name a few of her teachers: Bev Menzies, John Verholtz and John Newman.
I asked Chris whether she had always lived in Australia. "Yes, I have always lived in Australia. I was a born in Mareeba and then lived in Brisbane, where I was married, and then moved to Sydney. I have five children, and have had a great eventful life." Chris adds that she has lived on the northern beaches for 57 years.
Written by

Coordinated by Shirley Corbett
I have been playing bridge for 27 years. I learnt in 1989 with John Roberts in Mona Vale. Although I had played a lot of card games - Canasta, Euchre, 500, etc. - I knew nothing about Bridge. I am forever grateful I had such a good teacher.
My husband and I came to Australia as "£10 Poms", arriving on 10 June 1960. It was a beautiful, sunny day. I literally fell in love with Australia then, and remain so. We were 'nominated' by my aunt who dwelt in Park St, Mona Vale, and we have lived in Northern Beaches ever since, that is for 57 years.
I was born in London. My earliest memory is of walking beside my mother, who was pushing a pram with my sister in it, when the siren started. She whisked me up into the pram, and ran for her life. Within days, we left London for Wales, where I grew up.
Written by

Coordinated by Shirley Corbett
I was brought up in Adelaide and moved to Sydney as a young mother 43 years ago.
I live in Bayview and when I retired 6 years ago I joined Peninsula Club the following year. I love to play bridge, but with other commitments I can usually only play one day a week on Tuesdays. My friend and bridge partner Sandy Black and I, through education and playing are slowly gathering points, becoming more confident and gaining new strategies along the way. We still get very jittery when asking for aces and usually are very happy just to be in game, but we certainly aim to get beyond this stage.
Written by

Edited by Shirley Corbett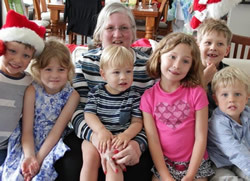 In 1974, I was offered a job in the NSW Dept of Education as a 22-year- old recent graduate from a university in the US. It was a 2-year stint tax free from both countries so I jumped at the chance.
Soon after arriving I met my husband-to-be who already played bridge. I grew up playing a lot of cards – mostly with my grandmother who changed the rules in Canasta each time we played (or so it seemed)! Playing so many games growing up led me to want to join Graham and his friends to learn how to play bridge.
Written by

Shirley Corbett (photo by Heidi Colenbrander)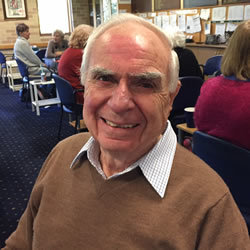 Introducing this month's member spotlight, Gino Morello. Gino has told me that he has played bridge since he was 19 years old. He learned to play bridge in Asmara (Eretria) where he shared lodgings with a fellow boarder who taught him how to play. Gino was born in Alexandria, Egypt, and had an English education. He has many language skills in his repertoire, being fluent in Arabic, English, French, and of course Italian, and possibly more!
In Gino's words: An opportunity arose when I was 19, to take up a vacancy in the accounts department of British Airways (BOAC) in Asmara, where I had worked for six years and prior to this in Aden for ten years, before I left to live in Australia in 1965. I had studied Financial Accounting, and so I transferred to British Airways (BOAC), Australia, and worked as a Financial Director for them until my retirement at 63 years old. I then took an accounting position with Global Aviation, where I worked until I was 80 years old.
Written by

Wendy Starkie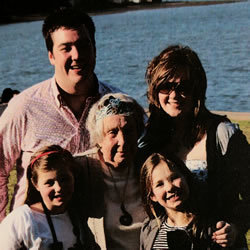 I was sad to her of the passing of Rowan Sault. She died on 16 May after a four month battle with cancer. Rowan's partner Beth Bretnall attended the funeral.
Rowan was so brave, continuing to attend Peninsula Bridge Club several time a week for as long as she could. She was always interested in all that happened in people's lives and was a great supporter of my sporting and theatrical activities .
She was a highly respected and loved member of the club for over ten years and will be missed particularly by those in the "Relaxed Row"!
Written by

Shirley Corbett
I have been playing bridge for sixteen years, when I moved to Australia from England, I know I needed to find some "new" friends, and the best way to do that is to pursue hobbies. I had always enjoyed card playing in England, my father is a bridge player, so I thought it was time to learn.
I looked up Peninsula Bridge Club in the phone directory, and first spoke to Ada Duigan, who at the time I think was organising beginner classes. I signed up for beginner classes which started on Monday mornings and were run by Greg Quittner. My first partner was a lady called Doreen. I have lived on Collaroy Plateau for sixteen years.