Written by

David Farmer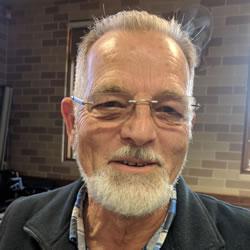 Member Rob Scott writes: After retiring somewhat early and a family move to Ballina NSW, I decided to learn bridge at the Ballina Bridge Club. Anne Briggs was teaching the beginners course and she continued to mentor me into the 'big school'.
I continued playing once or twice a week for a couple of years until we relocated back to Sydney for family reasons. Building a house, and settling back into Sydney, and some consultancy work restricted bridge playing to just once a week for about 5 years at the Ku-ring-gai Club. I started playing regularly at PBC when cousin Bruce Kleem took up the game about 3 years ago.
Written by

David Farmer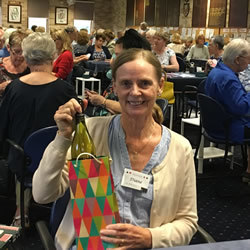 Di Hunter was recognised and thanked by Committee member Gayle King for the outstanding catering coordination work she volunteered to do during the Margaret Smale Interclub Teams on 11 March.
One hundred and thirty six players from five clubs had a very enjoyable competitive day of bridge thanks in large part to the many great food contributions by Peninsula members and Di's catering coordination. Di also has volunteered to help as a member of the Politesse Working Group with spreading understanding of the many etiquette and consideration practices we encourage as a bridge club.
It is this volunteer tradition that helps make our club the club it is. (Thanks to Jen Ardill for the photo.)
Written by

Shirley Corbett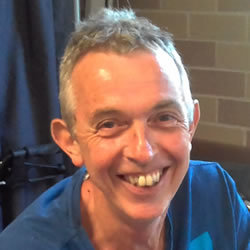 As anyone who has spoken to me at bridge will know, I am English.
We emigrated in 1975 when I was 15 and luckily had family friends in Dee Why so that's where we went. For the first six months I sulked and moaned but finally settled down. I've always lived on the northern beaches except for brief forays elsewhere. I lived mainly at Manly but have been at Warriewood for a while now.
I was very sporty and always played football with cricket, tennis and other sports thrown in. Then in my mid twenties it started getting hard. I would be exhausted before the end of whatever I was playing. I was diagnosed with MS in 1990, which was strangely a relief as I had been struggling. I have gone from stumbling a bit to one walking stick then two crutches before finally a wheelchair which has now been upgraded to an electrical one.
Written by

Shirley Corbett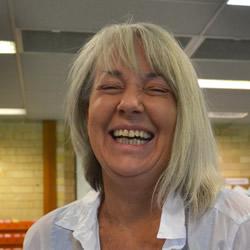 Peter and I were at bridge on Tuesday last and were happy to see Jen Ardill (visiting Sydney) this month. So I took the opportunity of catching up with her.
When I asked about her playing history, she thinks it has been 5 years, but I think it is closer to 7 years, as we started at the same time. Peninsula Bridge Club were holding their first night classes, to cater for working people and Cath Whiddon was the teacher! (She didn't see any potential, but what does a sister know!)
Jennifer said she was born and raised in in the West (Parramatta) but escaped in her early 20's to Elanora, overlooking the lake where we used to water-ski; all the family followed the sister's clever move to the northern beaches.
Written by

Shirley Corbett
Our lovely Isabel Buckland has sent me a short, but interesting story this month: "I first started to play bridge about 14 years ago, on a Tuesday night with Anne Small, helping beginners understand the game!
I was born in England, but because of my husband's work, we lived many years in Dallas, Texas. I have two sons, one who lives in the U.S. and one in Narrabeen.
When my husband retired we decided to relocate to Australia, to be near my son here. My husband died 5 years ago, so bridge has been very helpful for me to settle well and also I have made many friends at the Bridge club."
Isabel has never been idle. Although she may not have held an official position withmthe Bridge Club, she quietly did a voluntary role in the Kitchen, when required.
Written by

Shirley Corbett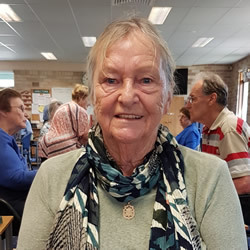 This month we are spotlighting Chris Kelly. She has been playing bridge for over thirty years. She started playing at Mona Vale Bowling Club - to name a few of her teachers: Bev Menzies, John Verholtz and John Newman.
I asked Chris whether she had always lived in Australia. "Yes, I have always lived in Australia. I was a born in Mareeba and then lived in Brisbane, where I was married, and then moved to Sydney. I have five children, and have had a great eventful life." Chris adds that she has lived on the northern beaches for 57 years.
Written by

Coordinated by Shirley Corbett
I have been playing bridge for 27 years. I learnt in 1989 with John Roberts in Mona Vale. Although I had played a lot of card games - Canasta, Euchre, 500, etc. - I knew nothing about Bridge. I am forever grateful I had such a good teacher.
My husband and I came to Australia as "£10 Poms", arriving on 10 June 1960. It was a beautiful, sunny day. I literally fell in love with Australia then, and remain so. We were 'nominated' by my aunt who dwelt in Park St, Mona Vale, and we have lived in Northern Beaches ever since, that is for 57 years.
I was born in London. My earliest memory is of walking beside my mother, who was pushing a pram with my sister in it, when the siren started. She whisked me up into the pram, and ran for her life. Within days, we left London for Wales, where I grew up.
Written by

Coordinated by Shirley Corbett
I was brought up in Adelaide and moved to Sydney as a young mother 43 years ago.
I live in Bayview and when I retired 6 years ago I joined Peninsula Club the following year. I love to play bridge, but with other commitments I can usually only play one day a week on Tuesdays. My friend and bridge partner Sandy Black and I, through education and playing are slowly gathering points, becoming more confident and gaining new strategies along the way. We still get very jittery when asking for aces and usually are very happy just to be in game, but we certainly aim to get beyond this stage.
You are here:  

Isabel Buckland