Playing Better Initiatives Chat
Written by

David Farmer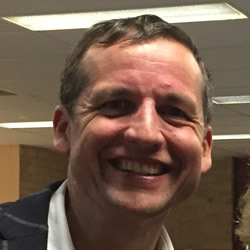 How do you feel when your opponents steal your game contract? Want to be a better stealer yourself?
Come on Tue 24 Apr and learn from accomplished teacher Derrick Browne about the art and science of sacrificing when the opponents have a game on. And equally importantly learn how to respond when opponents try to steal your games.
Check the details and how to register in the calendar event.
Written by

Many different sources
If you're interested in your score, then you need to know that playing IMPs (such as in most Swiss pairs and teams events) is different to playing normal matchpoint-scored duplicate sessions. Here is a summary of tactics for Swiss pairs/teams (ie IMP scoring) summarised from several internet sources:
Make your contract. Play as safe as possible to make your contract and don't play for overtricks. Overtricks are not as important as in matchpoints where they are everything. If you're in the right spot, it usually works in your favor. Trust your bidding system.
Stretch to bid a game. If vulnerable, 40% games should be bid, such as 3NT with 24 points. If not vulnerable, 50%. You'll pick up ten imps for a vulnerable game the field didn't bid (+620 – 170 = +450 = +10 imps), whereas you lose only six if you fail in a game they didn't bid (-100 -140 = -240 = -6 imps). Go for it.
Written by

David Farmer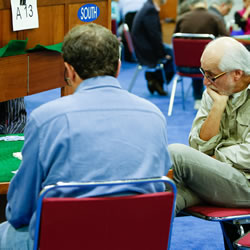 We are reviewing the 2017 Tuesday night initiatives and considering possible 2018 initiatives for members who wish to improve their competitive play.
If either you attended Tuesday night over the past six months or you are interested in collaborative initiatives to help you improve your competitive play, then this is for you.
Please spend five minutes to complete the simple three page survey below. (A paper version is available should you prefer it - contact David Farmer on 0415 715 743 or This email address is being protected from spambots. You need JavaScript enabled to view it..)
Written by

David Farmer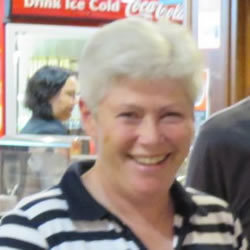 Join us on Tuesday 27 March at 5pm for a 60 minute workshop on "Defence: Counting to victory" led by Anita Curtis. Learn how to take the setting trick? Count the hand so you know what you need to keep.
Anita led our popular January workshop and was the winner of Interstate Women's Teams 2017 (part of NSW State Women's Team) and winner of Spring Nationals Women's Teams 2017. She is an experienced teacher at various bridge clubs in Sydney. Anita and her husband, David Beauchamp, take bridge holidays domestically and also sightseeing trips overseas with a bridge flavor. Check the costs and how to register.
Anita will also lead our free short talk on "Avoiding opponent/director trouble" at 6.40pm on the same night before our Swiss Pairs event.
Further out we have:
Written by

David Farmer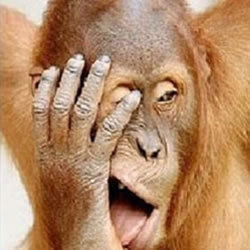 We have very well developed facial muscles designed to help us communicate with the merest twitch. Bridge however limits authorized information to the legal calls made and cards played. The merest gesture, heistation, or sigh can convey unauthorized information.
Twitches, pauses and body movements happen - so what can be done?
Written by

The PBI Crew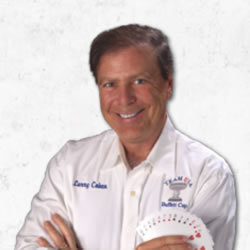 Larry Cohen is a very successful American bridge player and teacher. The quiz part of his site offers a huge range of quizzes broken down into six areas: Defense, 2/1 Game Force, Doubles, Bidding, Conventions and Declarer Play.
Check them out if you want to self-assess areas where you might want to invest some learning time. And rate the collection to help others.
Here are some that caught my eye:
Written by

David Farmer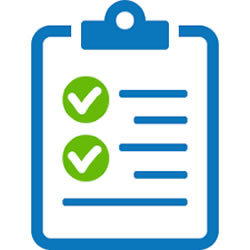 To identify the level of interest in various playing better initiatives, competitive players are asked complete this 5 minute survey. It will ask you to choose among anticipated initiatives those where you would like to be involved, and also to nominate topics for workshops and/or coaching sessions.
You can come back at any time to revise your choices. When there is sufficient interest and someone prepared to assist with organisation we will start the initiative with those that have registered.
To keep up-to-date with all the Playing Better Initiatives as they evolve, register for the PBI eNewsletter.
Written by

David Farmer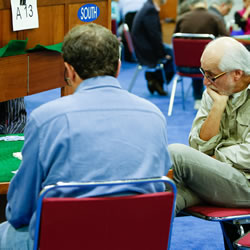 Some of our Playing Better Initiatives (PBI) for competitively focused players are falling into place:
Face-to-face partnership bidding practice will be trialed on Thu 25 Jan at 7pm - check the details.
Our monthly Swiss Pairs with guest expert will recommence on Tue 30 Jan with Anita Curtis and her free pre-session talk on "Winning Leads" - check the details.
In subsequent Swiss Pairs we have Ed Barnes on 27 Feb and Derrick Browne on 27 Mar.
We have our first Tuesday at 5 one-hour workshop on Tue 30 Jan also with Anita Curtis and topic "Making the Pressure Bid in competition" - check the details including how to register.
We will have an afternoon of workshops and/or coaching sessions with Joan Butts on Saturday 14 April - after her morning 2/1 workshop arranged by Bridge Education.
We expect to have a weekend of workshops and/or coaching sessions with Ed Barnes on the weekend of 12-13 May.