From the Committee
Written by

David Farmer
For those that have not yet scrutinised their 2018 diaries closely we highlight our four year long competitions - so that you can join one that suits. Check the details are in your diary - including in the Special Events section at the back of the diary, but in brief:
Padman Trophy - first Tue Nights from Feb to Dec (2nd in Nov) - open - 2017 winners David Farmer / Cath Whiddon - convener John Rogers
First Wednesday Rookie Individual - first Wed from Mar to Nov - <10MP (as at 1 Jan) - 2017 winner Peggy Fisher - convener John Rogers
Sloman Cup - first Thu from Mar to Dec - open - 2017 winners Alan Davies / Vivien Eldridge - convener Alan Davies
First Friday Rookie Individual - first Fri from Mar to Nov - <20MP (as at 1 Jan) - 2017 (when it was <50MP) winner Sue Evershed - convener David Farmer
This is in addition to the ten great individual, pairs and teams competitions played over a number of weeks within a particular month - see the diary for details and plan the ones that suit.
Written by

David Farmer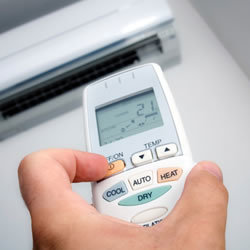 A highly experienced director once confided that the hardest part of the job was the air conditioning decision. We seem to have our fair share of different opinions.
The committee discussed what could be done and concluded that we can never make everyone happy. Not only do different people feel the temperature, humidity and air movement differently, but the temperature and air movement can also vary within the clubhouse (and of course is dependent on which doors and windows are open).
To reduce but not eliminate the perhaps inevitable arguments the committee has adopted the following approach:
Written by

David Farmer
Looking for a way to help the bridge club communicate better? The Communications Team has some vacancies right now - maybe one of these would suit you:
Club Noticeboard Coordinator - Overall coordination of the club's noticeboards to make them as efficient a communication channel as possible - needs someone with a good visual layout sense, good organisation and interpersonal skills, and comfort with using emails and displaying and printing PDFs (including in colour).
Club Template Coordinator - Overall coordination of the club's stationery templates including bringing them up to date with the club's design guide - needs someone with a good visual layout sense, good Word and Excel skills, good organisation and interpersonal skills, and comfort with using emails.
Graphic Artist - Contribute to the design of ads, signs and banners as required - needs someone with graphic layout flair/experience, access to any necessary software, and comfort using emails.
Website Team Member - Edit and add material to the website as needed as part of a team - needs someone with comfort using computers and editing photos, with good organisation and interpersonal skills, with comfort using emails, and ideally the ability to respond to time critical needs - training/support provided.
Written by

Cassandra Mitchell
We rely on busy volunteers to sell our prepaid vouchers (PPVs).
On the whiteboard at the south end of the room is a list of the currently trained PPV volunteer sellers. Directors are able to ask any of these people to sell PPVs at a session of bridge. If none of these people are present, directors are able to sell PPVs too. The list is updated as the need arises so the one posted on the whiteboard is the most recent.
PPVs are $7 each if paying by cash with a special price of $65 for ten only if purchased by card/EFTPOS.
If there are any questions about PPVs please contact Cassandra Mitchell on This email address is being protected from spambots. You need JavaScript enabled to view it. or 0421 764 300.
Written by

Sarah Young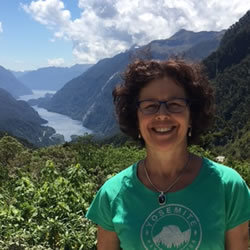 December was another busy month for Peninsula.
I went to New Zealand In November and had a wonderful 2 week trip. Whist I was cycling and kayaking, the new committee was working very hard to take on their new roles and ensure the continuing smooth operation of the Club. Renewing fees and distributing diaries began in December, and we are set for another year of bridge.
A highlight of December was the Christmas party, which I was very sorry to miss. The room was full to capacity and a great time was had by all. Thanks to the many helpers and organisers, who together make these events possible. Thanks in particular to Gayle King who has come on to the committee this year and did a marvellous job of organising the event.
Written by

David Farmer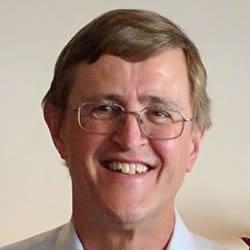 Having made it through most of a hectic year our President has gone abroad for a well-deserved break, leaving you with me to try to write this monthly letter to you.
The month has had its significant successes:
A successful transition to a new Committee at our AGM
The welcoming at the AGM of three new Honorary Life members - Alan Davies, Anita Kite and Catherine Whiddon
Peninsula doing well in the state's Most Improved list
Peninsula doing well at the State Open Pairs
Written by

Sarah Young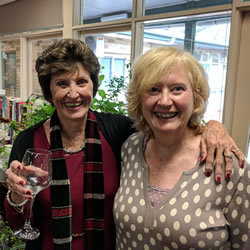 October has been another month of competitions at the Club and at Congress events. Congratulations to Maggie Gibbs and Susan Jensen on winning the Under 100MP Competition. On the Congress front, congratulations to Peter Clarke and Hans van Weeren for winning the two-day Two Men and a Truck Restricted Teams at the 2017 Sydney Spring Nationals event.
This month, we sadly lost two of our members, Bob Woodcock and Vona Hadfield. They will be missed at the Club by their friends and partners and by the Club as a whole.
Written by

Sarah Young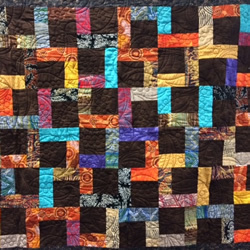 A highlight of September was our Annual Charity Pairs fund raiser. There was an excellent turnout and a fun day was had by all. More than $2,800 was raised. Thank you to Sue Riley for the wonderful effort she put in on the organisational and catering front. Who could possible resist her profiteroles! We are grateful to Shirley Corbett for the exquisite hand- made quilt which she donated. It raised more than $200 - Sue Falkingham was the lucky winner.
We are hoping to reach $9,000 for the year's fundraising, which includes money from the Charity evening plus money raised from plant and book sales. We appreciate Robin Hoey's efforts in supplying the plants and thank those who help with the books. There will be some raffles at the Club -please buy some tickets to help us reach the $9,000 target.