Bridge Club News
Written by

Alan Davies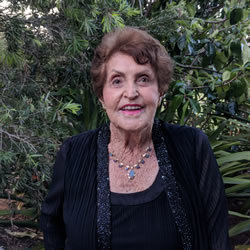 I would like to invite members to participate in this members-only, red-point trophy event which will be played on four successive Mondays commencing 8 October.
It is an "individual" event. To be eligible to win, a member must play with a different member each week - the best three scores will count. No need to sign up. Just turn up on 8 October. Check the event details in the calendar. Trish Giles has won the 2017 Stebbins competition, ahead of runner-up Anne Small.
Alan Davies, convener
Written by

Alan Davies
Please join me in welcoming two new Club Directors, Sandie Rooke and Susan Jensen. They both recently completed the directors' exam and are looking forward to assisting the Club's players in this very important activity.
We are always on the lookout for new directors. If anyone has an interest, please let me know.
Alan Davies, Chief Director
Written by

Susan Jensen
Don't keep it a secret. Introduce your friends and family to this great game.
We are creating an evening beginners group starting in October, just right for those who are still working or who have busy days. These groups provide not only the learning but also a new group of friends.
Check all the details in our event calendar or download the Beginners group flier to hand to your friends.
Written by

David Farmer
Bring your family and friends to our social Trivia Night on Saturday 22 September. This is a chance to have fun with family and friends and perhaps softly encourage them to learn to play bridge.
An initiative of one of our members, Nerida Gillies, this is a combined Peninsula Bridge Club/Australian Mensa event. We're providing the venue (and bridgy environment) and they are providing the experienced Trivia Night compere, and hopefully a range of their members who will learn to associate fun with bridge.
The event is free to attend but will raise money via gold coin quizzes and raffle for our charities Rural Fire Brigade of NSW and Mona Vale Hospital Auxiliary.
Written by

David Farmer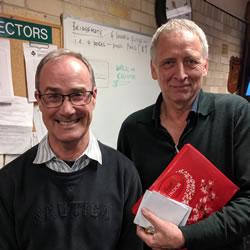 Peter Cotton and Rob Wallace won all four rounds to win the Swiss Pairs on Tuesday 28 August, ahead of David Farmer and Catherine Whiddon and our guest experts Liam Milne and Shane Harrison. Full results on our website.
It was an excellent night with 9 tables, with special thanks to our standby pair Di Agostino and John Simmonds.
It followed an excellent short talk from Australian international player, Liam Milne, on "Bidding more effectively in the pass-out seat" - you can check Liam's notes.
Written by

Alan Davies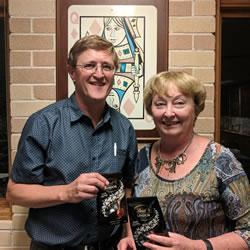 The State Open Pairs Qualifying event run over three Mondays finished yesterday, 27 August, with the top four pairs: 1st David Farmer/Catherine Whiddon 184.90, 2nd Peter Clarke/Hans van Weeren 169.19, 3rd Alan Davies/Vivien Eldridge 167.42 and 4th Jennifer Ardill/Yvonne Perkins 164.37.
The top four pairs earn club-sponsored entry into the State Open Pairs Championship on 24-25 November at the NSW Bridge Association. Other competing pairs are eligible to play this two day event at a cost of $50 if they join the club entry. See the convener Alan Davies for more information.
Written by

Annegrete Kolding
PBC's annual Charity Day convened by Sue Riley was again a great success with 31 pairs playing in the competition proficiently run by Terry Rothwell.
However, the main event of the day was the lunch provided by Sue Riley, who had spent days on preparation of delicious Moroccan lentil soup, ham and pea soup and pumpkin soup followed by a plentiful cake and cheese spread for dessert, where the exquisite profiteroles warrant a particular mention.
A big thank you to Sue for the enormous efforts putting this event together. And thanks to all the volunteers, who brought in chips, nibbles, dishes and cakes, and to all the people who help out during the day in the kitchen or with the raffles. Most of all thank you to the participants, who happily spent lots on raffle tickets.
Written by

David Farmer
As for last year, more than 20 Peninsula players attended the 2018 Coffs Coast Congress in Coffs Harbour in mid August to challenge bridge players from across Australia. The event again filled very quickly and those fortunate to attend experienced superb weather, a great venue, a well-organised event, and some tough bridge.
The congress comprised two major events, a two day Swiss Pairs followed by a two day Swiss Teams. Peninsula players held a dinner out between the two events.