Bridge Club News
Written by

David Farmer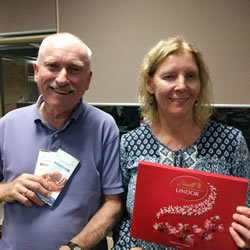 Vivien Eldridge and Alan Davies triumphed in the 2017 Sloman Competition, ahead of Beryl Dawson and Yvonne Perkins.
This annual competition is held on Mondays across the whole year.
No-one took a photo on the day so this photo is repurposed from one taken a couple of weeks earlier when they won the November Swiss Pairs.
Written by

David Farmer
In a tight final round Cath Whiddon and David Farmer overtook leaders Col Dempster and Brian Ody to win the 2017 Padman Trophy. This was despite David putting Cath into an impossible slam - "Slam seemed to be possible, and there was no way I could think of to ask the questions I wanted to - and I am an optimist...".
Col Dempster and Brian Ody were the 2017 Padman Trophy runners-up.
No-one took a photo on the night and so this is a repurposed photo from earlier in the year.
Written by

David Farmer
So you have a burning question or suggestion? Why do we turn over the contract after the opening lead? Why don't we turn it over until the opening lead? Why don't we all wear name tags. Are players allowed to stop the play and claim the rest of the tricks?
Talk to the guru! Simply send you suggestion or question to This email address is being protected from spambots. You need JavaScript enabled to view it. - or fill out an Ask the guru form to be found soon outside the office.
Who is behind the guru I hear you ask? We're a small Politesse working group with the aim of answering all those questions that arise at the table (we have more than thirty before we started), some of which might be based on misunderstandings, and some are great questions or ideas that the club wants to hear and respond to. Either way we will build up a growing collection of anonymous questions/ideas and our answers for all to see and use. Our goal is to improve the enjoyment of bridge at the table while responding to the challenges of a growing club with a diverse range of members.
Who is on the working group I hear you ask? Currently we have Verl Lawrence (a very established player), Di Hunter (a novice player), Anne Small (representing the Director group), Sandie Rooke (representing the Bridge Education group) and me, David Farmer. Will we always be right? Of course. (Or you can ask a followup question if you think we might have slipped...)
Written by

Gayle King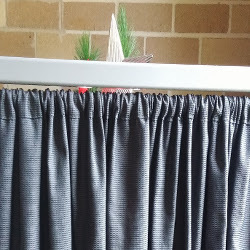 Anyone been wondering what's behind the grey screen in the north west corner of the club room? All will be revealed this week in the lead up to the Christmas party this Sunday. There was a lucky pair on the waiting list who have got the last tickets but otherwise sadly, it is all sold out and no walk ins.
On Sunday the bar will open at 9.30. Bridge play starts at 10.30 until 4pm. Please bring a plate of your wonderful morning tea delights (savoury preferred) for everyone to enjoy on the day.
Queries please contact Gayle on This email address is being protected from spambots. You need JavaScript enabled to view it. .
Written by

David Farmer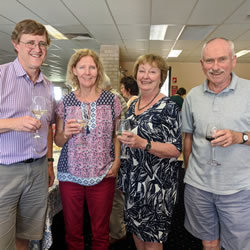 Put together six victories out of six (a rare feat for most of us) and wine and cheese and there is room for some contentment.
Such was my fortunate experience with the Club Teams Championship with team mates Alan Davies, Vivien Eldridge and Catherine Whiddon - with a score of 93.8, just beating the fast-finishing Draper team (Ray Bragge, Michael and Margaret Draper, and Anne Small) on 91.3.
It was a great event enjoyed by it seemed all participants. You can check the full results on our site.
Written by

David Farmer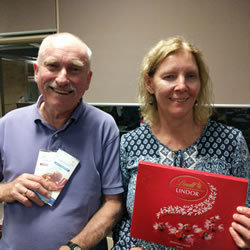 The final Swiss Pairs evening on Tuesday 21 November saw Alan and Vivien triumphant, including winning the last round against the fancied guest expert pair of Warren Lazer and Pauline Gumby.
Warren and Pauline had a bidding problem in the last round when they missed a slam after an intervening bid prevented their being certain they had slam range points. Warren opened 1C which in their system can be a 17-20HCP hand as well as a 12-14 ish 1C opening. When Alan or Vivien intervened with a 3C overcall, Pauline bid 3NT. Warren with 20HCP passed not sure if Pauline had stretched with a club stopper. A slam went begging.
Earlier just before the session, Warren had spoken on "What to count, How to count" starting with the basics and with efficient ways to store information about hand shapes that emerges during the play of a board, and ending up with using counting to determine how to play the last few tricks with confidence. That will be our last Swiss Pairs for 2017 with the 2018 season planned to start on Tuesday 23 January.
Written by

David Farmer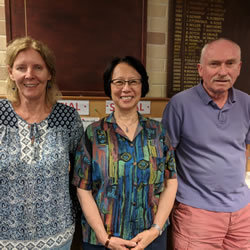 Peninsula players comprised 11 out of the 134 players competing in the NSW State Open Pairs Championships in November - after qualifying events at clubs around the state.
The first day saw the field cut back to 14 and we managed to hold 3 of these 14 finalist places with Robin Ho (our Administration Officer, playing with her frequent partner Alexander Cook) and our regular pairing of Vivien Eldridge and Alan Davies. The second day of finals saw Robin finish 8th in the state with Alex and Vivien and Alan finishing 12th.
In the consolation Swiss Pairs held in part for those pairs that did not make the finals, Greg Hay and Mervyn Baxter did well to place 13th equal. You can check all the results.
Written by

Gayle King
We have sold all our seats faster than Santa can deliver presents. For those of you who have missed out and are disappointed, we have put up a waiting list on the notice board.
Those who have previously put their names on the list on the notice board but have not yet paid, your seat for the event has been set aside but please pay as soon as possible to guarantee it. If you are currently away from the club then you might like to email This email address is being protected from spambots. You need JavaScript enabled to view it. your return date to the club to pay for the tickets so that we know that you still want to come (thanks to those who have already done this).
Queries please contact This email address is being protected from spambots. You need JavaScript enabled to view it. .